Yoga instructor course is the package of the training which enables you to be a good yoga teacher. By joining in yoga instructor course you can learn different aspects of yoga. You can take every advantage of yoga as well as you can make yoga as your carrier after finishing this course. Yoga can heal most of the mental and physical diseases and it makes you fit and well.
You will learn thoroughly how to practice yoga, pranayama, and meditation with the theory of them. Yoga philosophy and spirituality are also the inseparable part of yoga instructor course. Yoga postures, breathing exercise, and mindfulness is the common learning parts of this course. All of the practice can lead you to the healthy and happy life. Yoga plays the great role to bring the peace and harmony in the world. Yoga is the way of positive thinking and living. The yogic journey is the different types of the journey to the inside. You can spread the message of yoga throughout the world after this course.
About Nepal yoga home
Nepal yoga home is the pioneer yoga teacher training in Kathmandu, Nepal. So, you will get the chance to learn yoga in the popular yoga teacher training institution in Nepal. Here, you will have the chance to learn yoga with very experienced yoga teachers who have higher academic knowledge. The place where the yoga instructor course takes place is in the surrounding of Shivapuri Nagarjun National Park. You can see different hills and mountains from here.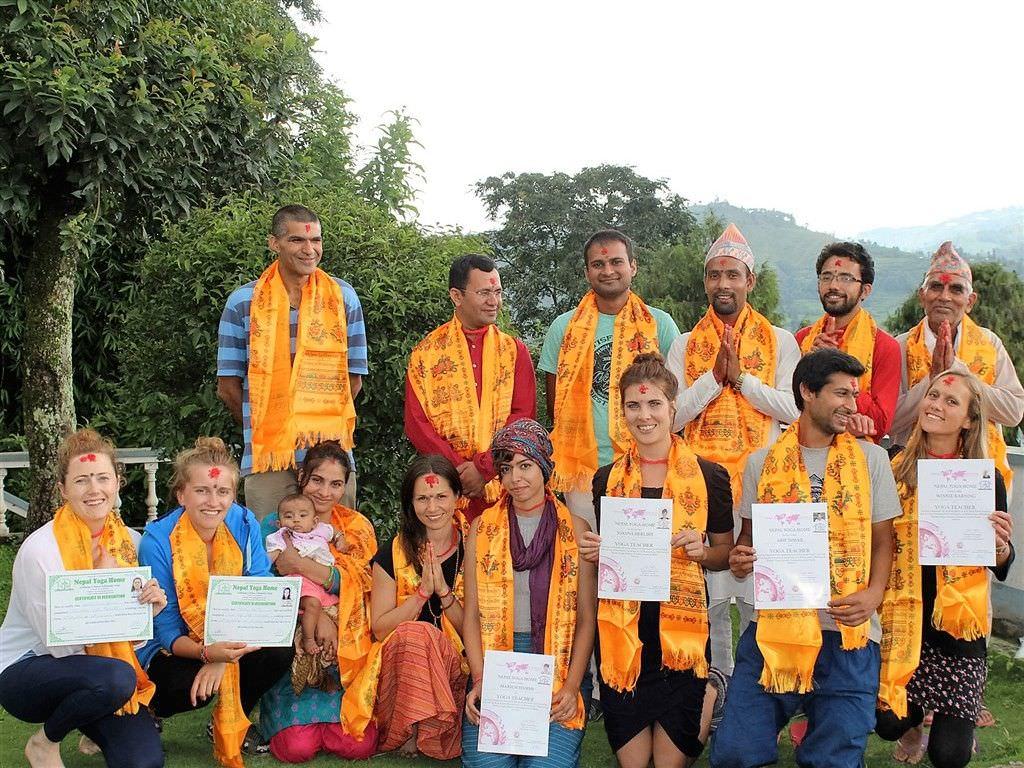 What kind of yoga instructor course is it?
Yoga instructor course by Nepal yoga home is very useful for you to be a very good certified yoga teacher from the Indian and American alliance. You will be able to teach 84 countries of the world after taking this course. There are two types of yoga instructor course first is 200 hours and other is 500 hours. In the class, you will get the chance to teach yoga to your fellow friends for your practice.
Who can join in the yoga instructor course?
Every one of the world is welcome here to learn yoga. The people who want to live their life with full of joy can be the part of this yoga instructor course. This course is for every religion, gender, race, nationality and age factor. Who is new in yoga can join and who is very good in yoga also can join in this course.
At the end of yoga instructor course in Nepal, you can be able to gain benefits as follows:
You will be able to understand the secret of happiness, health, and fitness.
You can add yoga to your lifestyle and make your life complete.
You will know the names of different asana, pranayama and meditation techniques.
You will learn how to sing some important mantras.
This course will transfer your life and enable you to go into a higher level in spirituality.
You can get sound health, happiness, and satisfaction which you have not experienced yet.
You can be able to teach yoga in the mass as well as to the individual.
Your inner journey becomes stronger and you will be powerful within.
You will be able to respect yourself as well as every one of the world.
You can develop your decision making power.
You will gain the insight into your mind after this yoga instructor class.
You will gain relaxation and flexibility.
You will understand the power of yoga to change your life you deserve.
You will understand that living a life is an art. You can create your life as beautiful as you want.
You will be able to find your real nature.
Everything will be provided you during yoga instructor course.
Nepal yoga home provides you accommodation and foods. The rooms are well furnished and they have different facilities. You will get bed, tables, and shelf. You will get hot and cold water during your living in Nepal yoga home for yoga instructor course. You can buy personal yoga mat if you don't like to use common yoga mats.
You will get sattvic, vegetarian and fresh food in Nepal yoga home. The family environment will allure you here. The surrounding is also very friendly and energetic.