The process of taking a journey, to break your day-to-day routine for the purpose of promoting physical, psychological, and spiritual health is called Wellness Retreat. A break once in a while is what you need to set everything right on track. But if you want a break but also want to use this opportunity to heal and enhance yourself then wellness retreat is for you.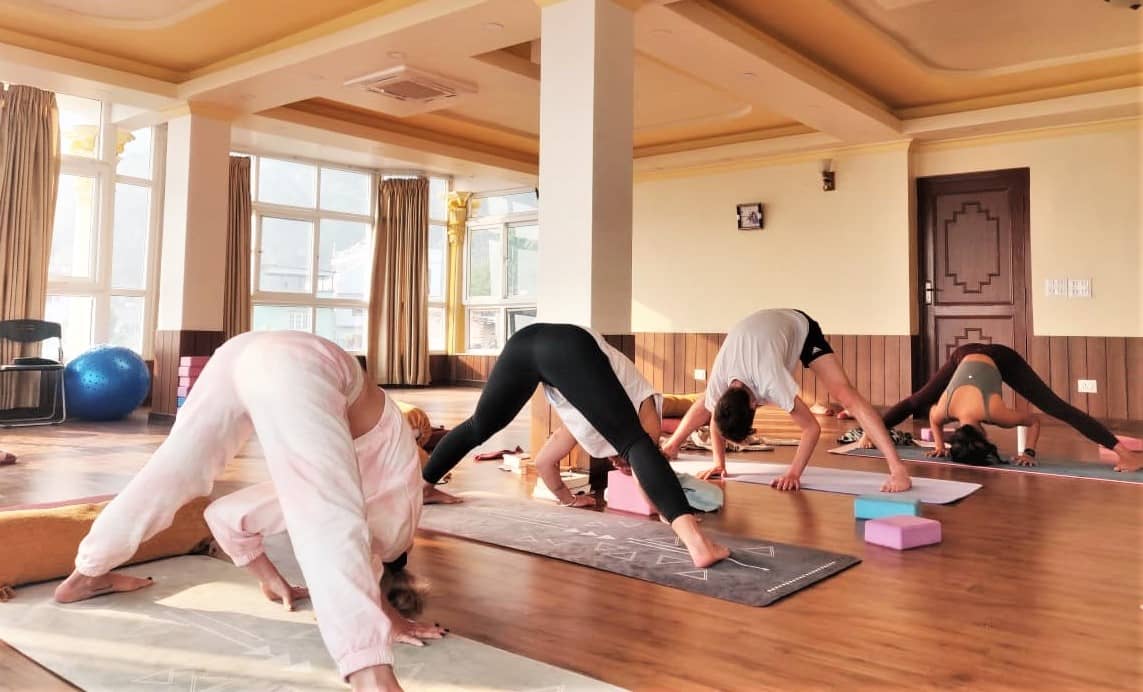 Today there are thousands of Wellness Retreat centers around the various corner of the globe. Each country has their specific element added to their wellness retreat programme which makes its unique from others. Moreover, due to the effectiveness of the programmes in the wellness retreat it is gaining more and more popularity.
Wellness Retreat in Nepal also has its own native elements which makes it very much special from others. The country with mountains, culture and Ayurveda history can dramatically enhance your wellness treatment experience. Morphed with the yoga and other ancient healing techniques wellness retreat in Nepal is one of a kind of experience.
The various constituents of this wellness retreat in Nepal are as follows:
Yoga class
Yoga originated in ancient India, which today is Nepal and India. Due to this very reason the authenticity and originality found in yoga learning of this country is found nowhere in the world. Even the yoga masters who perform wellness retreat programmes elsewhere, visit here to boost and enhance their knowledge and understanding.
Yoga class is one of the best highlights of wellness retreat in Nepal. To perform yoga in the laps of mountains with the fresh breeze of cold is what you must include for wellness retreat in Nepal. The yoga and yoga programmes are so well integrated into each part of the country. One can visit each part of the country and try out Yoga, they are sure to find the authenticity and originality wherever they may be.
Yoga course is best here moreover the one who will teach you are also one of the best. People who have gained massive amount of experience learning and teaching are chosen as instructor in wellness retreat in Nepal. Here yoga is not teached as a physical workout but as an integrated part the life which extends your possibilities. Integrated knowledge is one of the best things about wellness retreat in Nepal.
Singing bowl
Singing bowl healing are the best thing to promote relaxation. The procedure uses sound emitted from bowl rubbed which invokes relaxation on person who hears it. Wellness retreat in Nepal is also popular for its singing bowl therapy. Yoga class combined with singing bowl is just prefect for invoking relaxation and calmness from inside. Singing bowl therapy is said to have been to reduce anger, pain as well as improve sleep. All this benefit just from listening to a sound isn't it just amazing. Singing bowl therapy is some of the elements which makes wellness retreat in Nepal what it is today.
Philosophy and reiki healing
The process of healing someone by emitting energy from the palm of hands and transferring to them is called reiki healing. Nowadays, reiki healing is also one of major healing technique and wellness retreat in Nepal are also using the technique. It seems relatively easy to do and seems simple. However, without proper learning and good teacher people cannot even feel the energy used in reiki healing inside them.
The peaceful places in mountains, yoga class, amazing views, reiki healing and other factors makes wellness retreat in Nepal a best experience.
Massage and Steam bath
Massage and steam bath are the major constituent of wellness retreat everywhere in the world not just in Nepal. Whole-body Massage and steam bath cannot be excluded during a wellness retreat. For centuries massage and steam   bath has been used as a major technique for relaxation as well as anti-aging. Both Ayurvedic massage and steam bath can do wonders to both body and mind.
Wellness retreat in Nepal uses massage and steam baths to rejuvenate the body. The oil massages are primarily used to enhance energy flow in the body by removing the chakra blockages in the body. People doing massage and steam bath during their wellness retreat have also claimed that the procedure helps lot with old injury and deep body pains.