Yoga Retreat in Nepal: Best Yoga Retreat Center in Kathmandu
---
Experience amazing Yoga retreat in Nepal at one of the best yoga school in Nepal for physical health, emotional balance, mental stability and spiritual clarity by yoga-meditation, breathing exercises and make your yoga holiday worthful
---
Group size
: maximum 20 students (To maintain quality teaching) for this one month yoga retreat Nepal
Price: The total cost of one-month yoga retreat Nepal is 1400 USD in shared room and 1700 USD in private room. It includes your whole Yoga and meditation lessons, accommodation and food.
The case of booking cancellation – If you wish to cancel the course, 25 % of the amount of total fees will be deducted and the remaining amount will be refunded. Once you start the course, fees are non-refundable under any circumstances.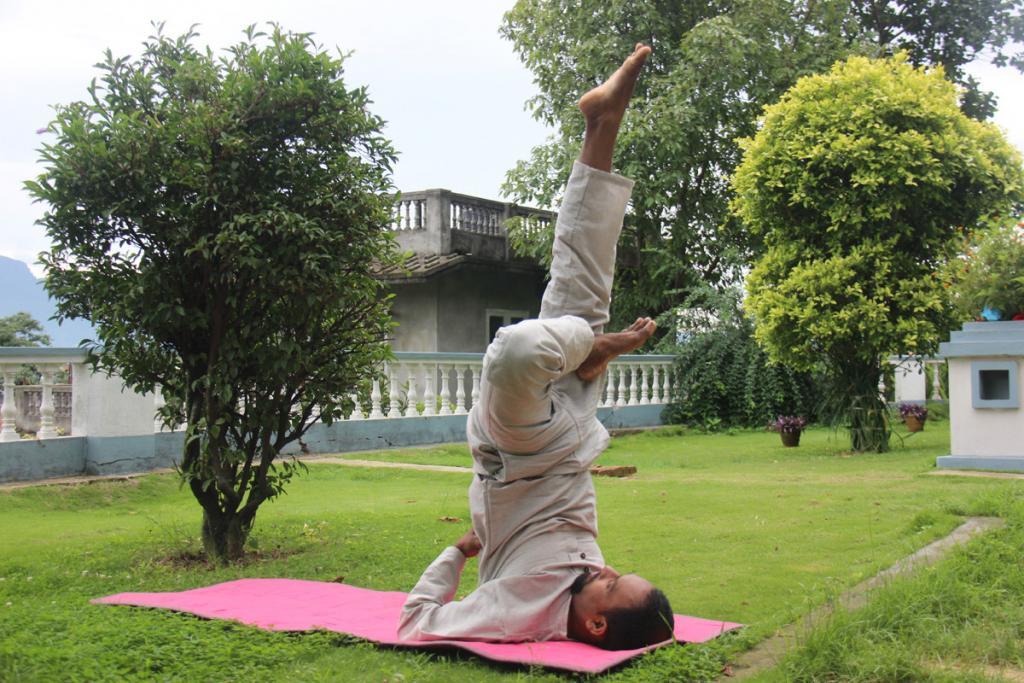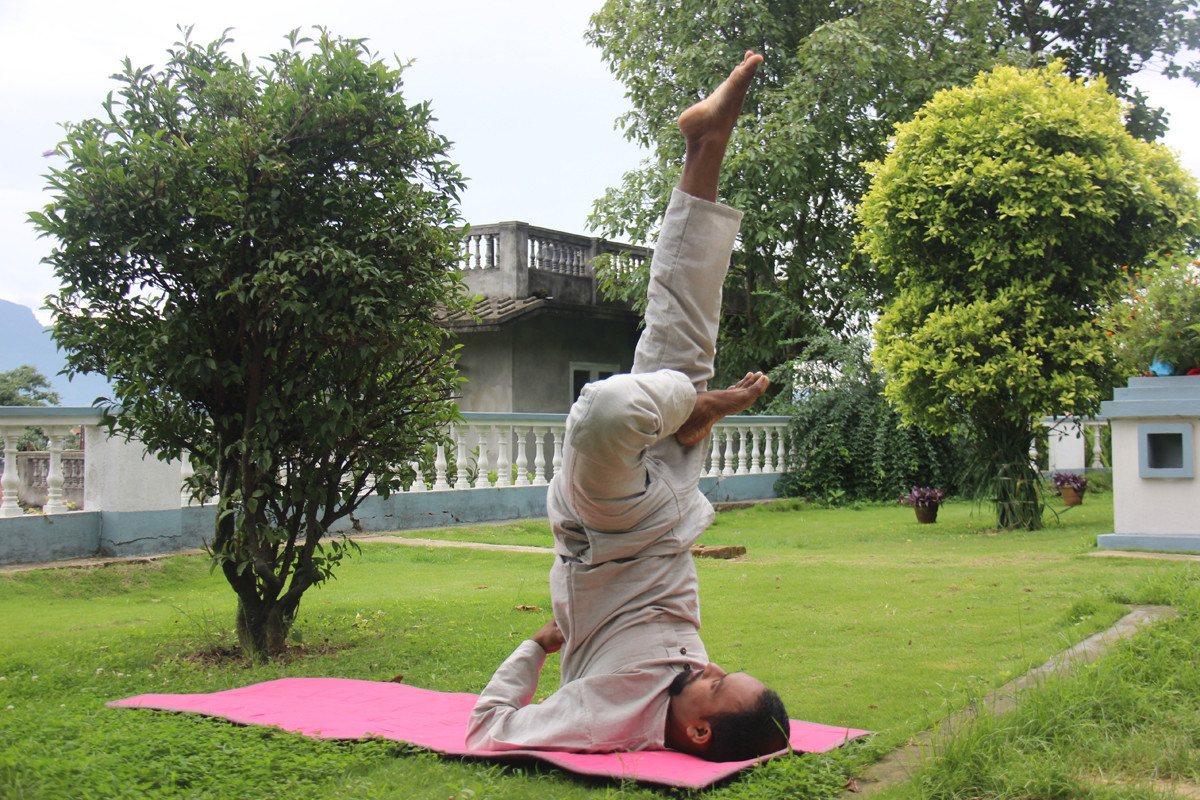 One month yoga retreat in Nepal is longer period yoga retreat course for 29 days. The main purpose of yoga retreat is to transform your life and you will gain the following achievements:
What will You Achieve and Benefits on Yoga Retreats?
Good physical and mental health.
After the retreat you will be able to achieve emotional balance and mental stability.
To provide the spiritual background to stand in the world with dignity.
You will be perfect to perform different yoga asanas, breathing exercise and meditation.
By the knowledge of yoga philosophy, you will be able to live a yogic life.
You can find the authentic form of yoga in the land of yoga, Nepal.
You will enjoy deep relaxation techniques in one-month yoga retreat in Nepal.
What Will You Learn In Yoga Retreat of Nepal Yoga Home?
---
You will be able to do yoga asanas, breathing exercise, yoga detox, and meditation perfectly on your own in a one month yoga retreat in Nepal. after the retreat, You can start a yogic lifestyle. In this retreat, you can find the source of happiness in your life. Achieve inner peace, physical and mental strength.
You will learn major yoga poses, major breathing exercises, and major meditation techniques during the course. The course one-month yoga retreat Nepal covers theory class and psychology class too.
We will motivate you to make you able to practice yoga at least once in your home after the course will reach your home. Mindfulness and stillness are the main achievements that you can learn from this yoga course.
1. Asana (Yoga Postures)
We manage the course yoga retreat in Nepal according to simple to complex teaching method so that you can be able to perform postures easily. In the beginning, you will learn very simple yoga postures. You have to be careful to start from warm up while doing yoga.
You can do joint exercises for warm up. Warm up makes you ready for the yoga postures and prevents the injuries when you perform difficult yoga postures. Astanga yoga, Hatha yoga, Sivananda yoga, Iyengar yoga are the common types of yoga in the course of study.
2. Pranayama (Breathing Exercises)
Pranayama is very important in yoga because pranayama plays a vital role to open the blockages of the body. Breathing exercise brings more Oxygen in the blood. It plays a great role to balance your mind and body. In this yoga retreat  in Nepal, we equally focus on every dimension of yoga.
3. Meditation Techniques
Meditation is the pure path of purity. It can eliminate all the stresses of the mind. Some meditation styles which are included in the course of one month yoga retreat Nepal are as follows:
So-Ham meditation
Mindfulness meditation
Silence meditation
Guided meditation
Soul meditation
Kundalini meditation
Breathing meditation
4. Yoga Philosophy
Yoga philosophy is the inseparable part of this course one month yoga retreat Nepal because without philosophy yoga becomes incomplete. Philosophy of yoga teaches you how to apply yoga in our daily life and how we can make yoga as the protection of our life. Patanjali Yoga-Sutra and Bhagavad Gita are the main text reference for the philosophy with many other sources.
5. Shathkarma (Cleansing Process)
In Shatkarma There are six cleansing processes in yoga. They can clean every part of our body and give us complete heath.
6. Mudra (Physic Gesture)
During the course of one-month yoga retreat in Nepal, you will learn so many yogic practices including Mudras. There are many types of mudras like postural mudras, lock mudras, pranic mudras, element mudras etc.
7. Bandha (Energy Locks)
Bandhas are the higher level of yogic practice. They are the main source of strength of the body and mind.
Jalandhar Bandha (Throat Lock)
Throat lock is the technique of the breathing break with the help of throat. During the break, Oxygen can enter into the cells of the body.
Uddiyan Bandha (Abdominal Lock)
By locking the abdomen, we break the breathing. This Bandha improves our digestive system.
Mula Bandha is related to the Muladhara Chakra (Root center). From Muladhara Chakra, the energy flows towards the upside by this Bandha.
Tri-bandha is the combination of all three Bandhas.
---
8. Chakra Shuddhi (Purification of 7 Energy Centers)
There are 7 chakras in the body human body. By purifying them we can achieve good health. Charkas are the energy centers. We have to purify the centers to be happy and healthy in our life.
9. Mantra Chanting
Mantra chanting is a powerful practice for mindfulness. Chanting of mantras have waves of positive power which can restore our health and it gives us happiness and satisfaction. Mantras are also part of yoga. By mantra chanting, we can attract divine strength within us.
What To Bring ?
We recommend you to bring mosquito repellent and sun cream in summer. Comfortable loose clothing for yoga and meditation, torchlight.  Also, need to bring strong willpower to uplift the new level of peace and healthy life.
It gets a little bit cold in winter here and it warms up a bit in summer, so according to the season, you will need to prepare your clothes.
The Daily Routine
Two yoga sessions and guided meditation sessions, one pranayama (breathing exercises), lectures on yoga and lifestyle.
One hour of service to the yoga home/ashram community Karma Yoga (Yoga of selfless service) is optional.
Every Sunday will be free so you can explore the jungle or Kathmandu city.
The Sample Schedule
7:00- 8.00 am-Yoga Asanas (Yoga Posture)
8:00- 9.00 am-Tea break
9:00 to 10.00 am- Meditation
10:00 to 11. 00  am- Breakfast
11:00 to 1.00 am- Sight scene, Countryside hiking etc ( yourself)
1:00 to 2.00 am-Self Practice
2:00 to 3.00 pm-Lunch
3:00 to 4.00pm- Rest
4:00 to 4.30 pm-Tea time
4:30  to 5.30 pm-Yoga Asana and Pranayama
5:00 to 5.30 pm- Break
5:30 to 6.30 pm- Philosophy
7:00 to 8.00 pm- Dinner
8:00 to 8.30 pm-Celebration/ question answer/ campfire etc.
8:30 pm-Time to bed.
*It schedule of one-month yoga retreat Nepal may change according to subject matter, different situations or due to teacher concerns.
Time Of One-Month Yoga Retreat Nepal
We are available throughout the year:
1st Jan – 29th  Jan,      1st Feb- 29th Feb,        1st Mar- 29th  Mar,        1st Apr- 29th Apr,
1st May- 29th May,      1st Jun – 29th Jun,      1st July- 29th July,         1st Aug- 29th Aug,
1st Sep- 29th Sep,        1st Oct- 29th Oct,          1st Nov- 29th Nov,         1st Dec- 29th Dec
Food and Accommodation
Food:
You will enjoy three nutritious and delicious vegetarian meals a day, three cups of tea and fruits. The diet includes simple and deliciously prepared fresh fruits, vegetables, Nepali recipes and cultural food.
Accommodation:
Simple & comfortable, we provide accommodation for spiritual studies. Your package price includes share double room. If you are looking for a private room, the cost will be more than the package price.
Price: 1400 USD per month (28 nights 29 days). It includes:
All yoga and meditation lessons.
Share accommodation
Three meals, tea everything.
Advance deposit: 500 USD
The Rest of the money should deposit on arrival. Fee once paid is non-refundable. After the enrollment of the program under any circumstances your money will not be refunded instead, this money will go to needy children in remote areas of Nepal.
Past Student's Saying About Our Yoga Retreat in Nepal
1. Berger Westferry (United Kingdom, London)
"Thank you very much to all yogis of Nepal Yoga home for giving me a chance to learn such a sacred knowledge of life and peace. I couldn't have had a more inspiring place to immerse myself in the yard of the mountain. View of Himalaya and Jungle and whole natural beauty was great. I appreciate very much to my Teachers (Guru) Prakash, Narayana, Shandeep, Dr. Shree Ram. Meditation, Pranayama, Mantra chanting, and Asana & inspiring yoga philosophy has changed my life. Found myself become more flexible in all aspect of physically, mentally and spiritually. Lastly, I would like to recommend this course for every yoga and meditation seeker".
2. Cytopy Oliver (Australia, Melbourne)
"The one month yoga and meditation retreat were amazing; I loved every minute of it. The knowledge I gained is astonishing and very helpful in this stressful life. I learned so much! I'm very grateful for such an experience of peace and relaxation. Nice food, comfortable accommodation, experienced instructors, interesting yoga workshops, yoga philosophy, and a helpful family member made my course wonderful. Thank your very much for such nice hospitality & I wish I could be here again".
3. Larisa Vreeken (France, Paris)
"One-month yoga and meditation retreat was an enlightening experience in my life! I felt very lucky to gain this sacred knowledge of yoga and meditation being family of Nepal Yoga Home. Acharya ji your kindness, generous spirit, intuition, passion, and encouragement were inspirational in my every step. I'm so thankful for the opportunity to learn and grow with you and my new yoga family. I would like to recommend this place to anyone without the doubt".
Om Shanti! Shanti!! Shanti!!!