One
Week (Seven night Eight days) yoga retreat /One week Relaxing Yoga Class in Nepal ($350)
---
The beauty of one week relaxing yoga class in Nepal is that it is suitable for all levels of the students. It gives you the total peace of mind and well being. One week yoga retreat in Kathmandu is especially for relaxation mentally and physically. You will able to learn yoga asanas, breathing exercise, meditation and different ways of yoga. One week yoga in Nepal can inspire your daily yoga practice in your life.
If you want to be fit and fine in your life, one-week yoga class in Nepal may become your turning point. This yoga class in Nepal gives you the delicious taste of yoga which can encourage you to continue yoga back to your home. Yoga rejuvenates you so that you can feel light in your body. You will learn about yogic foods which have total nutrition required for our body. Yoga is the way of healthy living. Health and happiness are the major problems of the world so the need for yoga is rapidly growing in the world.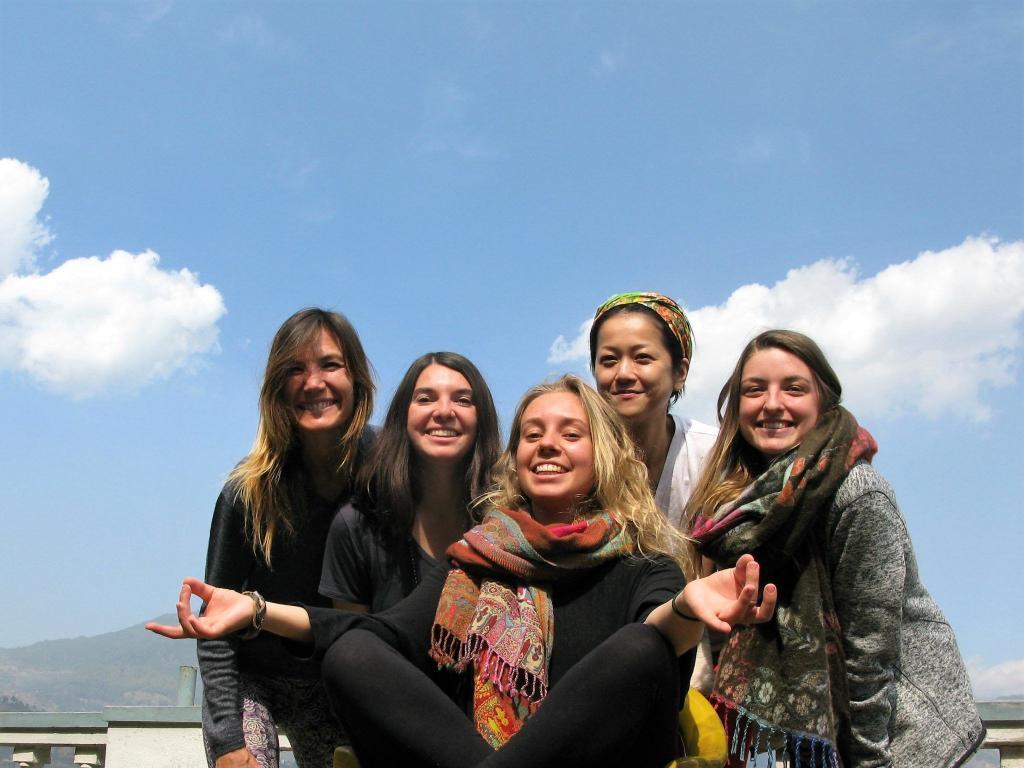 One week yoga class in Nepal is a complete package for yoga and, breathing exercise, meditation and yoga philosophy. You can enjoy the whole journey of yoga for 7 days. You can make your holiday as an unforgettable moment by joining this one-week yoga retreat. You can join in this yoga class in Nepal every week i. e al; together 4 entry session in a month (1st, 7th, 14th and 21th of every month). It's all about your desire to maintain your physical and mental health and to become strong emotional. Please, decide now to change your life.
Another attraction for you in this one-week yoga class in Nepal is the beautiful surroundings of the place. You can enjoy the beautiful scenes of mountains and panorama views. The peaceful environment adds the beauty of the place. The place is very natural in the lap of the Nagarjuna jungle but near to the city.
This yoga is also for the spiritual growth. By the understanding of the yoga philosophy, you can become strong inside. You want to purify yourself by regular yoga practice in your life. You deserve to the journey inside after this one-week yoga class in Nepal.
In total, you will gain the following achievement in the course of one-week yoga class in Nepal
---
You can be able to manage all your stresses.
You will be able to begin your inner journey.
You will improve your concentration power and memory power.
Your inner and outer flexibility will increase.
You will understand the real meaning of life.
You will be free from all the stresses of your daily life.
Main learning subjects during one-week yoga class in Nepal are as follows:
Yoga Poses
---
Yoga poses are the most important part of one-week yoga retreat class in Nepal. Yoga poses increases your flexibility and stretch of your body. Yoga poses to keep you healthy and fit. You will learn different yoga poses like Astanga, Hatha, Sivananda, Restorative etc. Asanas are the basic practice in yoga. Yoga poses balance your mind and body to maintain your health and happiness. Asanas increase the strength of the body. Yoga poses can remove our weakness and different disorders. Yoga poses heal a headache and improves your sleep.
Breathing Exercise (Pranayama)
---
Breathing is the most important part of life. Proper breathing can balance our mind, body and spirit. There are different techniques of the breathing process. Breathing exercise increases the level of oxygen in our blood cells. Breathing exercise is helpful to mental and physical diseases. Breathing exercise heals our mind completely. Oxygen is the life force of the human body. Pranayama is very useful for the respiratory problems. It will make you strong mentally. Pranayama purifies our blood and keeps healthy.
Meditation
---
Meditation is the medium to understand the self. Meditation controls our thoughts and increases our concentration power. Meditation is the best way to heal mental stresses of the mind. Meditation becomes the best medium to go inside. You will learn different types of meditations during the course of one-week yoga class in Nepal like Buddha meditation, So-ham meditation, Vipassana meditation etc.
Yogic Lifestyle with Positive Thinking
---
Yogic lifestyle is the most attractive lifestyle in the world because it focuses on positive thinking and healthy diet. A healthy diet and healthy thinking are the core factors of happy life. In reality, yoga and positive thinking are interrelated to each other.
What to bring
---
Warm clothing (evenings and mornings might be cold but depends on season)
Notebook and pencil if you like to take notes in the lectures
Schedule of Every day for one-week yoga class Nepal
---
Note: This is tentative schedule of one week yoga class in Nepal and might change slightly
| | |
| --- | --- |
|  6:00 am | Get Up |
|  6:30-8:00 am |  micro- level yogic practice+ 25 postures |
|  8:00-8:30 am |  Tea break |
|  8:30-9:30 am | meditation |
|  9:30-10:00 am |  Breakfast |
|  10:00-11:00 am |  Rest |
|  11:00 am -12:00 pm |  Yogic Relaxation |
|  12:00-2:00 pm |  Site scene, country side hiking etc |
|  2:00-2:30 pm |  Lunch |
| 2:30-3:00 pm |  Rest |
|  3:30-4:30 pm | pre pranayama's + locks system in pranayama |
|  4:30-5:00 pm | Tea Break |
| 5:00-6:00 pm | Rest |
| 6:00-7:00 pm | Yoga philosophy (introduction of Astanga Yoga), Sun-Salutation, Stretching |
| 7:00-7:30 pm | dinner |
| 7:30-8:30 pm | celebration, question answer session, camp fire etc |
| 8:30 pm | Bed |