---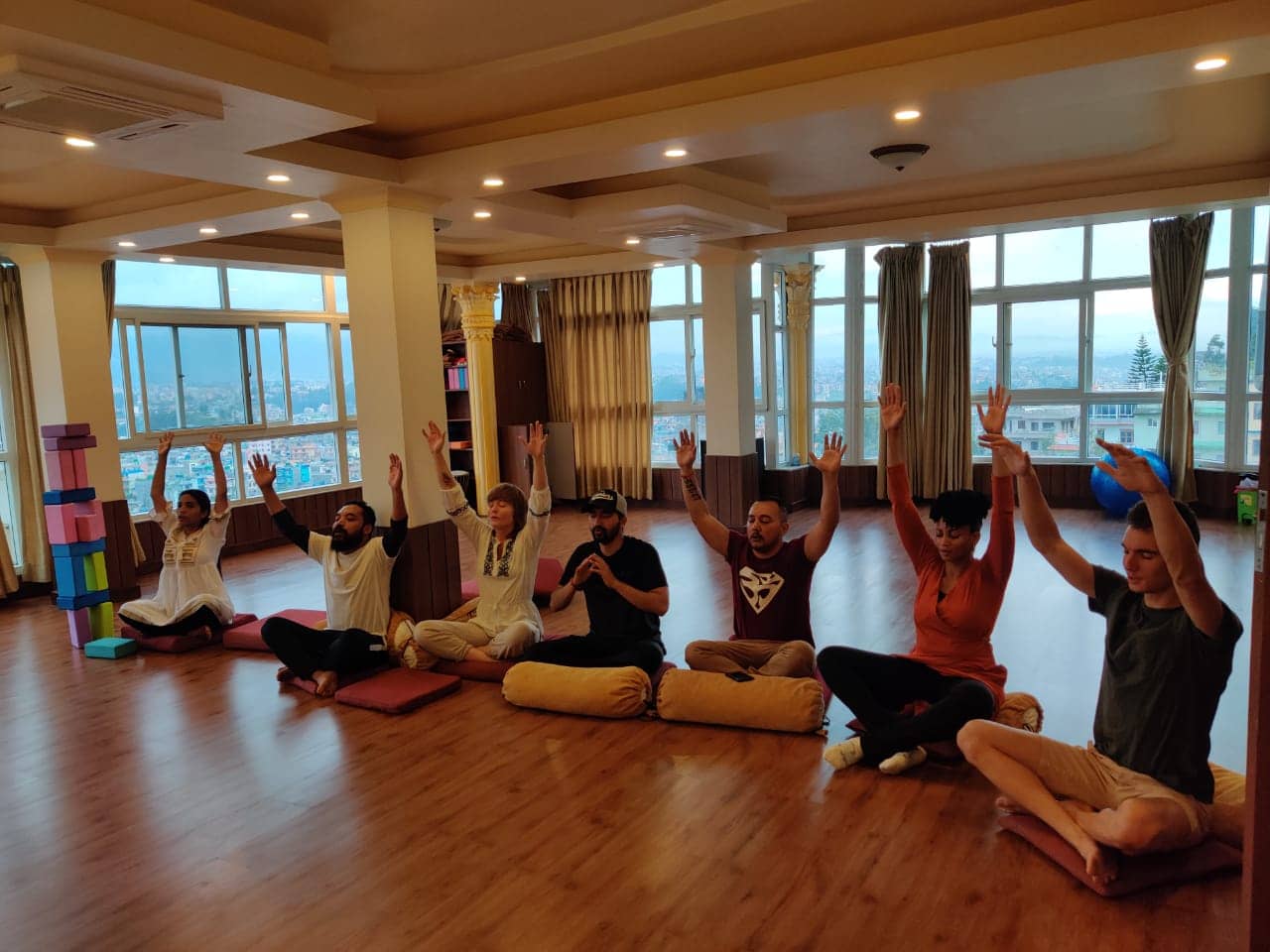 Nepal Yoga Home conducts one-week online meditation course with breathing exercise for beginners to advanced practitioners. This is a course for those who can't physically attend residential course but they want to high quality course from Himalayan country Nepal.  Meditation is open for all and welcomes the people of all countries, cast, creeds and tradition. The meditation and pranayama course is conducting by highly experience meditation masters who spent their life into it.  You will have a great opportunity to practice meditation with well learned yogis who is highly experienced and have devoted their whole life to seek the mundane and super-mundane truth.
Instructor: Prakash Acharya is main instructor of online meditation course who has done two years' master's degree in yogic science and human consciousness. Also he has done Doctorate (PDH) in Vigyan Bhairav which has 112 technique of meditation. He discovered here and now meditation, soulful meditation and many more. After learning many ways, he is offering meditation in very practical, easy and simple form.
Attending online meditation course from Nepal Yoga Home has a great value
Since Nepal is the historically an important place for meditation, tantra, and various spiritual practices, it is the naturally favorable and best place for those who want to awaken spiritually. You will experience strong positive vibration during the meditation practices if you guide by us. Our teacher Acharya ji has strong  spiritual vibes of past and present Siddhas (accomplished yogis) guides you to reach the goal.
Nepal Yoga Home is considered to be the best place for spiritual practices as many students were graduate from here. Our guru Prakash has borne on the same zone where Buddha had burn. So he has great impact of Buddha style of meditation since his childhood. He has learned and visited more sacred place of Nepal and India from where meditation is flourishing all over the world.
What meditation actually is
Meditation is mental training to develop awareness and live life mindfully.  According to Patanjali yoga sutra, "Meditation is the stage where the mind becomes continuously focused at a selected object or a thing and there will be no any interruption". Meditation is the process to realize the truth with constant concentration or focus. This is the process to observe the thoughts and feelings without any conclusion or verdict. This will release the prison of thoughts and make the mind calm. Meditation is a skill where you need consistent and ardent practice. Due to all these reasons, we highly recommend you to practice our online meditation course.
Meditation is the process to realize your perfect existence but need a regular practice. According to principle of meditation the journey is more valuable than the goal. Meditation is a pure science for all human being which has no relation with any sect, or religion.
For the practice of meditation, one can use various methods- like visualization, mindfulness, or focusing the awareness on a specific thing, activity, or mentation. People also use the method such as mantra, autosuggestion, breathing for the practice of meditation. There are multiple ways to learn meditation. The meditation techniques may vary according to the type of person.
Why meditation is important
All the sufferings in life begin with the mental imbalance. Meditation brings equilibrium of mind.
Meditation decreases anxiety, depression, pain and stress.
Meditation is the ultimate tool for mental peace, harmony and adjustment.
It improves the clarity of thoughts, analytical thinking, and understanding.
It increases concentration, memory power, and learning capacity.
Meditation is the best medication since it increases immunity power.
It protects from negative thoughts or build positive attitudes. Negative feelings and thoughts release harmful hormones in the body which creates various types of diseases. The best way to remain healthy is by creating positive thoughts and developing tranquility of mind. This is possible only from meditation and from our online meditation course.
Meditation awakens real humanity like- love, compassion, kindness, sympathy, generosity, etc.
It forms a civilized and healthy society, free from crimes and anti-social activities.
Meditation helps to be released from various types of addiction. People cling to a particular type of addiction due to habit or to seek pleasure. But the real ecstasy of pleasure can be attained through meditation.
It helps to achieve more devour, deeper and joyful stage.
Meditation releases from all the mental blockages and hindrances
It increases tolerance, helps to be unaffected from dualities like success-failure, profit-loss, heat-cold, like-dislikes, favorable- unfavorable, love-hate, etc. It activates even-tempered.
Meditation awakens the various potentialities of human beings awakening the inactivated portion of the brain.
It releases all the miseries and sorrows of life. It addresses all the complex problems of life.
Meditation is only the path for liberation or enlightenment.
During your 7 days' Online Meditation Course With Breathing course you will learn following things:
Meditations (Dhyan)
Omkara meditation
Breathing meditation
Here and now meditation
Blissful meditation
Breathing techniques (pranayama)
Akara pranayama
Ukara pranayama
Makara pranayama
Suddhi pranayama
Udar pranayama
Vakshya pranayama
Skanda Pranayama
Yogic breathing
Sectional breathing
Natural breathing
Jalandabanda Pranayama
Uddyana banda Pranayam
Moola banda pranayama
Shanti pranayama
Anulom Vilom pranayama
Nadhi sodhana pranayama
Vastrika pranayama
The date of online meditation course
The date we start the course is Every 1st, 11th and 21st of the month.
How to reserve the spot?
To reserve the spot please mail us or contact us through Whatsapp or viber.
Email: nepalyogahome@gmail.com
Contact what's app/viber +9779849521819 or +9779851167373