---
Lift Yourself To Next level of Practice by Joining our Authentic 300 Hours Advanced Yoga Teacher Training Nepal
---
Group size: 35 MAX, Price: Depending on room type ( 1800 USD- std. shared, 2100 USD- std-private, 2200 USD Deluxe Shared, 2500 USD- Deluxe Private Eligibility: Intermediate and advanced Yoga Style: Multi style of Hatha+ Ashtanga Vinyasa+ Iyengar + Kundalini
---
Come and Join our 300 hours Advanced Yoga Teacher Training Nepal is to be a Grand Master of Yoga!!!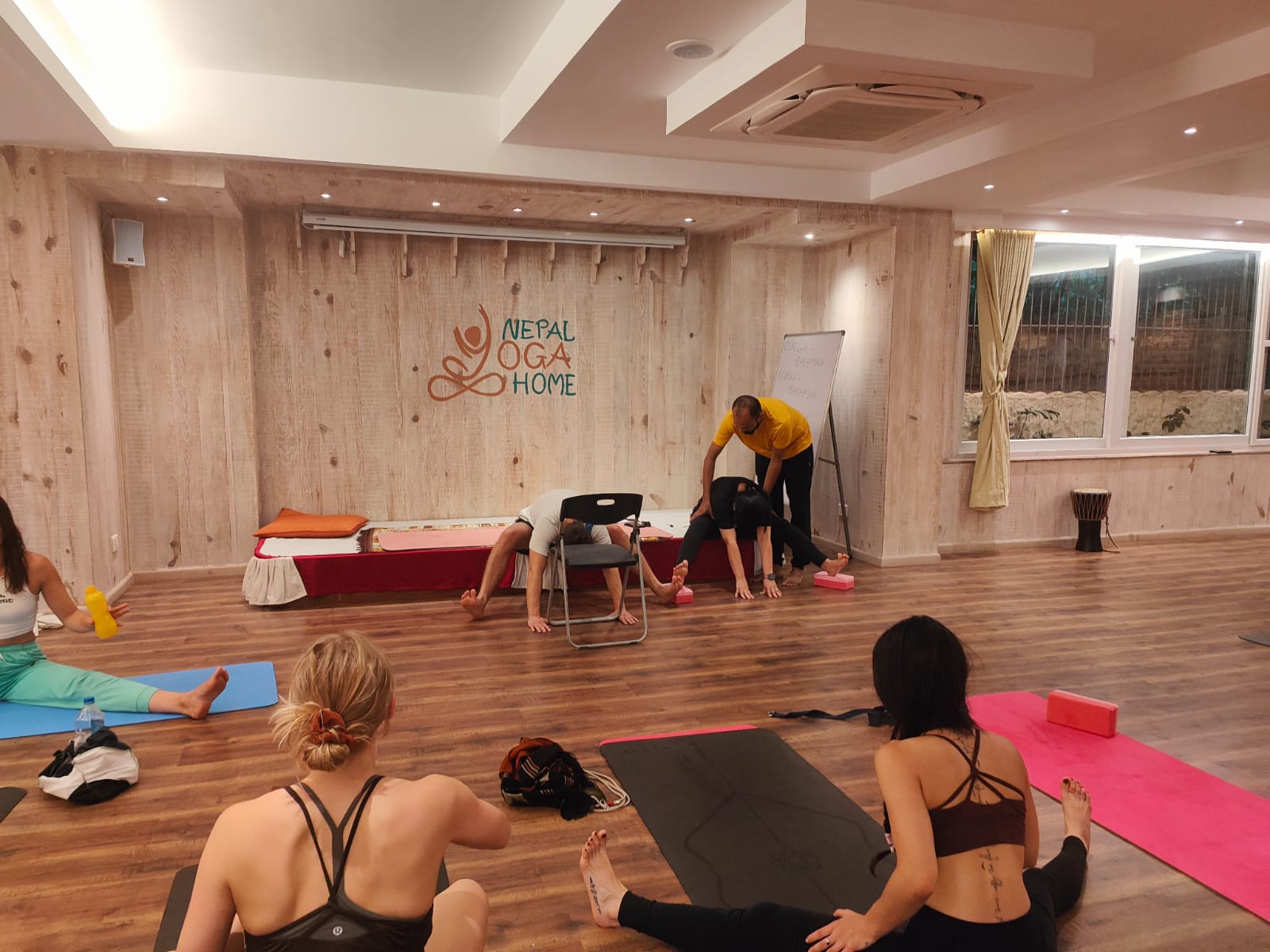 The 300 hours advanced yoga teacher training Nepal (YTT) is helpful to build confidence to teach as well as for self-transformation and self-realization.
This course includes many dimension of yoga like yoga asana, pranayama, meditation, yoga philosophy, yoga detox, and mantra chanting and yoga anatomy. Whatsoever we give the name and brand, yoga teaches the tools which are supportive to every tradition and style of yoga.
300-hour advanced yoga teacher training Nepal is open for anyone who is interested in learning the ancient science of health and spirituality. Those who are good and advance in yoga they have higher understanding, simplicity, less ego, and more positivity.
We heartily welcome for those people to build up these habits within. This advanced yoga teacher training Nepal starts from beginner level and goes towards advance. This course is advanced not only in twisting and stretching but also in the sense of realization and spirituality.
You will certify 500 hours advanced yoga teacher training Nepal after completing our 300 hours yoga teachers training course considering your 200 hours yoga teacher training course. This course will be one of the best course for those who want to learn more detail art of yoga asanas, pranayama, and meditation.
Trainees emerge from our 300 Hours advanced yoga teacher training Nepal as confident teachers with a strong and solid teaching skill set ready to begin their career. The student will develop a comprehensive understanding of the practice of yoga asanas, meditation, pranayama, yoga detox, yoga philosophy, adjusting, mantra chanting, chakras, anatomy, knowledge of lifestyle, mudras, bandha etc.
We are happy to lunch our 300 hours advanced yoga teacher training Nepal, after the grand success of 200 hrs yoga teacher training course. This course follows on from beginning level training and will reach a higher level. This 300 hrs yoga teacher training course is a practical and theatrical course which opens the door to be registered grand master of yoga.
Advanced yoga teacher training Nepal will be an interesting and amazing experience to become a part of the Yoga Ashrama family. During this course unknowingly you will find many physical and mental toxic have removed, rest of you will be simple, natural and spontaneous like a yogi. This three hundred hour advanced yoga teacher training Nepal is very supportive to make you a qualified yogi, not an exercise master.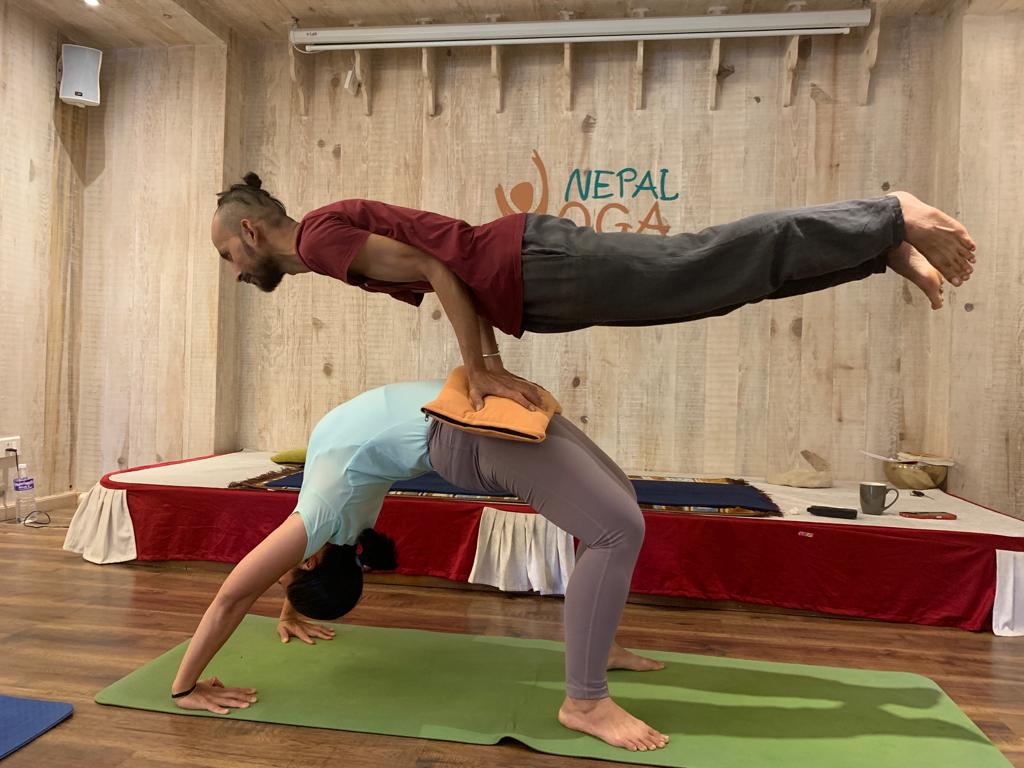 300 hours advanced yoga teacher training Nepal is intensive and quality teaching. This established method of training has been developed over many years to ensure trainees graduate, be competent and professional certified and qualified teachers.
Our advanced yoga teacher training Nepal and teachers are recognized as leaders in the field of yoga and meditation in Nepal. The 300 hours higher standard or advanced yoga training Nepal is to deepen your yoga and meditation practice with the support of our experienced teacher will be life-changing experience on the foot of Himalayan and lap of Nagarjuna Jungle.
This advanced yoga teacher training Nepal is open for sharing your past yoga experience what you learned and how you teach. Please do not expect a lot of magic because you have already learned the most popular tools of yoga but you will try to deepen your own practice to find yourself.
Advanced yoga teacher training Nepal believes the highest achievement in life is to achieve oneself rather than postural magic. All of the problems arise due to lack of understanding of our life. This course helps to understand your authentic source that who you really are.
The classes are held in a paradise of nature where you find Himalaya in front of you and mountain at the back side. We Hope you will fully immerse in your practice in this natural space. This 300 hours Yoga teacher training certification course in Kathmandu, Nepal is suitable for those who have already gained yoga knowledge but want to sharpen their skills and want to be an expert in the various art of yoga and meditation.
We keep maximum of 20 people at a time which makes the course personalized to ensure you get individual attention and advice. This 300 hours advanced yoga teacher training Nepal helps to nourish your physical, mental and spiritual body.
We are registered with Yoga Alliance USA. We are also certified by the Nepal government. Nepal Yoga Home in Kathmandu, Nepal is leading international standard yoga and meditation institute which has already passed out thousands of yoga students.
Objectives of Advanced Yoga Teacher Training Nepal
Develop higher skills to teach yoga and meditation.
To develop teaching assistant to the senior grand yoga master by certifying 500 hrs Yoga Teacher Training courses.
It help the exploration of student's past experience.
Helps to advance your yoga career.
for self-transformation and self-realization. This advanced yoga teacher training Nepal is not only for teaching but it is, first, for self-transformation then secondly world transformation.
Help to transform physical and emotional pain into a journey toward freedom, healing, and liberation.
Teach the mechanism to control the monkey mind.
it provides the environment to deepen your own personal physical and spiritual practice through asanas, pranayama, meditation, and yoga detox (Shat Karma).
Make capable to guide their students through higher skill and an effective yoga class after this yoga teacher training course.
To guide you into a greater understanding of your own challenges, both in your yoga practice and in your everyday life.

Who Can Join 300 Hours Advanced Yoga Teacher Training Nepal?
Anyone who wants to discover a peaceful life and who has basic skills in yoga.
Yoga lover who has completed a 200 hours yoga teacher training or similar and wish to refine and deepen their teaching skills (irrespective of tradition, style, lineage, and school of yoga).
Yoga teachers who are qualified but are looking to take their teaching to the next level.
It is available for all of those who have some past experience with yoga although your eligibility will be assessed after you send us your email. After going through it, we will e-mail you and you can proceed to book your spot by advance deposit. After payment, your seat will be confirmed.
Those who never have 200 hrs. yoga teacher training course they should be passed on an online interview, we may ask some questions through email or online talking.
You will receive certification only upon 100% completion of the teacher training course.
If you are a beginner and very interested in an advanced course, you can join for our 500 hrs yoga teacher training course directly.
Accreditations: After successful completion of yoga teacher certification, anyone can register with Yoga Alliance. Nepal Yoga Home will approve every request who completed the course.
Highlights of  300 Hours Advanced Yoga Teacher Training Nepal
This 300 hours advanced yoga teacher training Nepal starts from the beginning level and reaches up to the higher level.
Expresses the wisdom of your spirit under the pure energy of Himalayas and mountains.
Our 300 hours yoga advanced yoga teacher training Nepal will help you to develop your unique teaching style and command in the yoga and meditation field.
Under the guidance of highly experienced certified Yoga gurus, the Yoga Teacher Training Programs in Nepal yoga home will be great knowledge for life and peace.
You will practice this course in a peaceful place on the foot of Nagarjuna Jungle with a panoramic view of Himalaya.
You will be given good guidance on how to deepen your practice of asanas, pranayama, and meditation from your senior teachers.
Deeper knowledge of research based on Hath Yoga, traditional Patanjali based Ashtanga Yoga (eightfold path of yoga).
Deep insight into the yoga philosophy.
This is cheapest teacher training course in comparison to other yoga institutes.
After the graduation of this course, you can write the title 'Registered Yoga Teacher' or Grand Yoga Master, Acharya etc.
During this advanced yoga teacher training Nepal, the students get chance to do teaching practice under the guidance of competent teacher which helps to share knowledge with each other.
Involvement in selfless activities conducted at ashram without any ego and development of a positive atmosphere in the yoga ashram.
Study of Chakras and their natures.
Learning about mudra and lock system in detail.
Cleansing your body with nutrition and traditional yoga and meditation techniques.
You will get chance to study of yoga therapies (yoga for specific disease).
Increase strength, flexibility and self-natural discipline.
The students also get an opportunity to meet the Ayurveda experts who help to arrange your diet and lifestyle.
Good to develop the stamina to increase your mental, physical, and spiritual health.
This yoga teacher training course is helpful to elevate motivation and energy level.
Nepal Yoga Home is located in a peaceful environment amidst of the mountains yet not far from the city which helps in inner transformation of body, and mind.
Experience expanded connection with spiritual powers and self-realization.
What will you learn in 300 hrs advanced yoga teacher training Nepal?
The 300 hours advanced yoga teacher training Nepal will provide you a lot of information to make you skillful yoga teacher. The 300 hours advanced yoga teacher training Nepal conducted by Nepal Yoga Home, explains the detail of asanas and its therapeutic effect on the human body including benefits. You will learn the alignment of the postures and secondly to adjust the postures.
Nepal Yoga Home teaches yogic lifestyle, which is healthy for happy living and release of stress. This advanced course includes therapeutic yoga for some non-communicable disease like heart disease, high blood pressure, stress, anxiety, sleep disorder, back pain, cervical pain, gastritis, obesity, etc.
You will learn how to adjust yoga postures. Students will learn the Yoga with the mental, physical and spiritual aspects of the human body which is good for balancing every aspect of life. Yoga Philosophy makes you clear about the illusion and misconception about yoga and inspires to positive and happy living.
During this yoga course, you will learn how to manage class for different group and level. Also, you achieve knowledge of safety and interpersonal teaching skills. Mantra chanting will help to purify your mind and yoga detox will helpful to purify your body. Our powerful tools of meditation will be a life-changing experience for your journey of life.
Syllabus of 300 hours Advanced Yoga teacher Training Nepal
Advanced Yoga teacher training Nepal includes different dimensions of yoga like asana, pranayama, meditation, yoga detox, yoga philosophy, mantra chanting etc. So every style and tradition's student can be benefited by this advanced level of yoga training course.
Yoga Asana
Meditation
Pranayama
Teaching methodology and Practicum
Philosophy, Lifestyle & Ethics
Yoga Anatomy
Yoga Detoxification
Mantra chanting and Kirtan
Yoga Asanas For Advanced  Yoga Teacher Training Nepal
Concept and practice of Multi-style yoga – Hatha yoga, Patanjali based Ashtanga Yoga, Sivananda Yoga, Restorative Yoga, Iyengar Yoga etc. We teach the most popular more than 100 asanas and hands-on adjustment.
Strengthening yoga postures
Arm balance yoga postures
Balancing yoga postures
Inversion yoga postures
Binding yoga postures
Chest opening yoga postures
Core yoga postures
Hip opening yoga postures
Forward bending yoga postures
Back bending yoga postures
Restorative yoga postures
Seated yoga postures
Standing yoga postures
Lying yoga postures
Twist yoga postures
Sequence yoga postures
Sun salutation
Moon salutation
Anti-rheumatic yoga postures
Beginner, intermediate and advanced level yoga posture.
1. Meditation
Trainees will learn different styles of meditation. We teach meditation based on Vijnana Bhairava Tantra which was directly given by Lord Shiva to his devotee Parbati. We teach meditation based on Buddha Style and our old scripture Veda, Purana, Upanishads and Bhagavad Gita. Meditation course is led by highly experienced yogis in Nepal.
The major attraction of this course is a different style of meditation in-depth level. We think all the practice of asana, pranayama, stretching are just preparation to achieve deeper meditation. The objective of yoga is to liberate from our monkey mind. Without meditation it is impossible.
So, meditation has a vital role in yoga.  You will learn yogic relaxation. Yogic relaxation is part of meditation which is a foundation to prepare our mind for meditation. We teach following meditation techniques in this advanced yoga teacher training Nepal.
Breathing meditation
Jyoti meditation
Kundalini meditation
So-Ham meditation
Chakra meditation
Buddha Style of meditation
Vipassana meditation
Soul meditation
Dynamic meditation
Walking meditation
2. Pranayama
Pranayama is control of Breath". "prana" is a breath or vital energy in the body. The student will learn basic and advanced level yogic breathing. Trainees will lead the class and practical exam evaluated by Nepal Yoga Home.
This pranayama course takes place under the guidance of a highly experienced teacher. You will experience how a disturbance in the mind may be related to disturbances in the breath and way to still the mind by breathing science.
This 300 hours advanced yoga teacher training Nepal is supportive to learn how to manipulate and control the prana to develop our life energy. The practice of pranayama will helpful to purify the Nadis (nervous and blood circulatory channel). Also, you will learn how to combine breathing with yoga posture. In pranayama you will learn the following things:
The process of awakening pranic energy.
Benefits of Pranayama and difference between prana and pranayama.
Five kinds of prana
Mechanism of breathing
Mantra and pranayama
The concept of pranayama in ancient yoga texts books.
Techniques covered abdominal, thoracic and clavicular breathing, yogic breathing.
Kapalabhati, Bastrika, Ujjayi, Nadi Shodana, Surya bhedana, Chandra bhedana, Anuloma-Viloma, Shithali, Shitkari, Bhramaree, Anulom Viloma Pranayam and their advanced variations.
Techniques of mudras: mudras mean gestures of hands or body combining with pranayama.  Mudra directs a flow of energy into different parts of our body and mind.
3. Bandhas
Bandha means to lock or close-off. In the practice of a Bandha, the pranic energy flows to a particular area of the body. Then we lock by the practice of bandha to activate the energy of any specific part.
Meaning and concept of Bandha
Benefits and effect of bandha
Relation of bandha and pranayama
Jalandara bandha
Uddiyana Bandha
Moola bandha
Maha Bandha
Teaching Methodology And Practicum For 300 Hours Advanced Yoga Teacher Training Nepal
By observing yourself, others, and receiving direct feedback, you will be guided by highly experienced yogis. This process will be helpful to develop understanding between your actions and their effects. You will also be capable of further development of your particular yoga style by this effective guidance of teaching practice.
Teaching practice is compulsory for everyone. On this course, the student may participate who is already a good teacher. That's why teaching practice can be the best way to share knowledge with each other. The main attraction of this course is all the students are from the different yogic tradition and very interesting to exchange knowledge with each other.
1. Practicum
Class observation
Design and teach your own style. And learn different styles with your yoga friends from a different corner of the world.
Yoga and meditation teaching practice.
Practical teaching exam.
This moment makes you perfect teacher to the yoga and meditation world!
2. Philosophy, Lifestyle & Ethics
The 300 hours advanced yoga teacher training Nepal covers Yoga Philosophy, Lifestyle, and ethics of yoga. You will learn yoga philosophy to the higher standard which helps to change your mathematical mind to yogic mind.
Nepal Yoga Home believes that yoga is our lifestyle. Your stay in Nepal Yoga Home can be a great lesson for your yogic lifestyle. The food we eat, love we share, a life we celebrate which will encourage to be a real yogi.
This 300 hours advanced yoga teacher training Nepal covers basic knowledge of Ayurveda which can help in healthy living, diagnose and cure and how to use Ayurveda according to dosha is included in this advanced training of yoga, definition, meaning and concept of health, preventive, curative aspects of yoga, yoga for holistic health including physical, mental and spiritual.
In this advanced yoga teacher training Nepal, we also teach yoga ethics and ethics of yoga teacher which makes you higher standards of the yogi (male yoga practitioner) or yogini (female yoga practitioner). Also, you will learn the following main topics:
Patanjali's Yoga Sutras
Eight dimensions of Yoga.
History of Yoga.
Handling of the mind and emotions according to yoga principle.
The role of ritual and ceremony in stress management in modern life.
The business of yoga: how to market your skills, where to teach.
The ethics of yoga: The yoga code for teachers.
How to stay inspired yogi.
Hindrance in yogic path.
Type of Chitta and type of Vritti.
The concept of yoga according to Bhagavad Gita.
The concept of yoga according to Veda and Upanishads.
You will learn much more about your life and your mind stuff.
3. Yoga Anatomy
Anatomy terminology,
Knee, Hip, shoulder and elbow joints
Joint health and mobility.
Introduction of an important system in the body.
Musculo-Skeletal System
Digestive System
Respiratory System
Cardiovascular System
Endocrine System etc.
4. Subtle Anatomy
Seven chakras system and glandular system.
Nadi system and Kundalini energy.
Concept of yoga and pancakosa: Annamaya, Praṇamaya, Manomaya, Vijnanamaya and Anandamaya kosa etc.
Yoga Detoxification for this Advanced Yoga Teacher Training Nepal
Hatha Yogi Gherand says posture gives steadiness, breathing gives lightness and meditation help to realize the self and yoga detox (Shat Karma) purifies a whole body. This teacher training course covers the yoga detox (six cleansing process of yoga). During yoga teacher training at Nepal Yoga Home, you will experience the best time to detox.
Part of yoga detoxification includes cleansing practices of body and mind. Ancient yogic purifying practices called Sat Karma (six process of cleansing) which is very effective tools to detoxification in this modern time.
While attending a 300 hours yoga teacher training in Nepal Yoga Home you will detox your mind by meditation and physical body by Sat karma.  You will not only start to feel good internally you will also look good with a new lush on your skin and shining in your face.
The intensive 300 hours yoga advanced yoga teacher training Nepal is a perfect time to change you in new healthy yoga life by yogic detox process. After this course, you will be capable of cleansing the body by yourself and able to teach other people. The yogic detoxification is very supportive for elimination and excretion of toxins from body and mind.
Mantra chanting & Kirtan
Mantra has a literal meaning to guide or control of the mind. During 300 hundred hours advanced yoga teacher training Nepal, you will uplift your emotional life through the chanting of powerful mantras. Mantra chanting is the best way to inspire in mantra meditation which is very supportive to go beyond the body and mind. The practice of chanting mantras, sharing the love and dancing in Kirtan nourish your life.
Kirtan is a higher tool to connect the individual soul to the universal soul. Kirtan is a Sanskrit word which involves the singing and praising the divine on his devotion.
This sacred mantra and kirtan help to develop spiritual power. Students will learn the following:
Chanting of different mantras which are universally relevant and acceptable.
The basic rules of chanting, with an explanation of the meanings of these chants.
Correct rhyme and spelling of the mantras.
Kirtan chanting in a group.
Positive effects on emotions.
Correct pronunciation and mental attitude.
Mantra for the Modern Yogi.
Mantra meditations.
The daily schedule of 300 Hours advanced yoga teacher training Nepal
Each day includes yoga classes on different topics. Daily yoga classes, guided meditation, pranayama, philosophy & yogic discussion by nationally renowned teachers (Guru).
This is a sample schedule and may change according to subjects, topics, and situations:
7.00 – 8.30 am – Yoga Asanas (Yoga Posture)
8.30 – 9.00 am – Tea break
9.00 – 10.00 am – Self-practice/ advanced asana
10.00 – 10. 30 am – Breakfast
10.30 – 12.00 pm – Sight-seeing, Countryside hiking / Karma yoga
12.00 – 1.00 pm – Yogic Relaxation and mantra chanting
1.00 – 2.00 pm – rest
2.00 – 3.00 pm – Lunch
3.00 – 4.00pm – Meditation
4.00 – 4.30 pm – Tea break
4.30 – 6.00 pm – Yoga workshop
6.00 – 6.30pm – Break
6.30 – 7.30 pm –Yoga philosophy
7.30 – 8.30 pm – Dinner
 8.30 pm – Celebration/ free time/ question answer/ campfire etc.
8:45 – Bed
Note: Classes are held 6 days a week and 7th day is for optional trips to cultural and spiritual places. One hour selfless service (karma yoga) to the yoga home community is optional.  
300 Hours Yoga Teacher Training Course Date
We Run the 300 hours Yoga Teacher Training course from 1st of every month. So, you can sign up for any month you want.
What To Bring?
Casual comfortable clothes, notebooks, pens, slip-on sandals, rainwear in summer, flashlight, insect repellent, alarm clock, water bottle, sunscreen…etc.
How To Apply For Advanced Yoga Teacher Training Course?
Send your information to nepalyogahome@gmail.com, achtirtha@gmail.com or prakashyogaworld@gmail.com. After approval from Nepal yoga Home, deposit fee in advance through by bank transfer or Western Union Money Transfer to confirm your spot. We will send you an e-mail after receiving your advance fee.
Fee Includes
      1. The Price includes full yoga and meditation lessons.
Meals in a day – 3 Veg meals.
Free Wi-Fi
Two-time tea, Nepali or black tea.
Accommodation.
Note:
Note:  Yoga books, copy, laundry, local traveling or sightseeing tour and other personal use will not be provided to you.
Payment And Refunds Rules
Registration and deposit must be made to reserve your spot for yoga teacher training course.
Advance deposit is non-refundable. But you can reschedule within one year on availability of Yoga Home
The remaining balance of the yoga course fee must be paid on the day of arrival.
We accept cash in any major currency.
If payments via internet banking or SWIFT bank transfer, they may include transaction fees.
If an applicant cancels or withdraws from the course, the deposit is non-refundable but this money goes to needy children in a remote area of Nepal for their education.
Evaluation and Certification
To get a diploma at the 300-hour yoga teacher training course, a student needs to attend one practical and written exam.
Accommodation
Your accommodation will be at one of our affiliated ashrams or Nepal Yoga Home or nearby hotels.
Om Shanti: Shanti:  Shanti: