5 Days chair yoga in Nepal- Yoga for seniors and for those Who can't seat Well in Floor
---
Overview
---
Chair yoga is a type of yoga in which we use a chair to practice various yoga poses. Normally, this wouldn't be the case as yoga is mostly done on the floor. But when we find it difficult to perform certain poses, it is the best alternative. The chair yoga in Nepal is a program that is made for senior citizens to achieve their goals in yoga.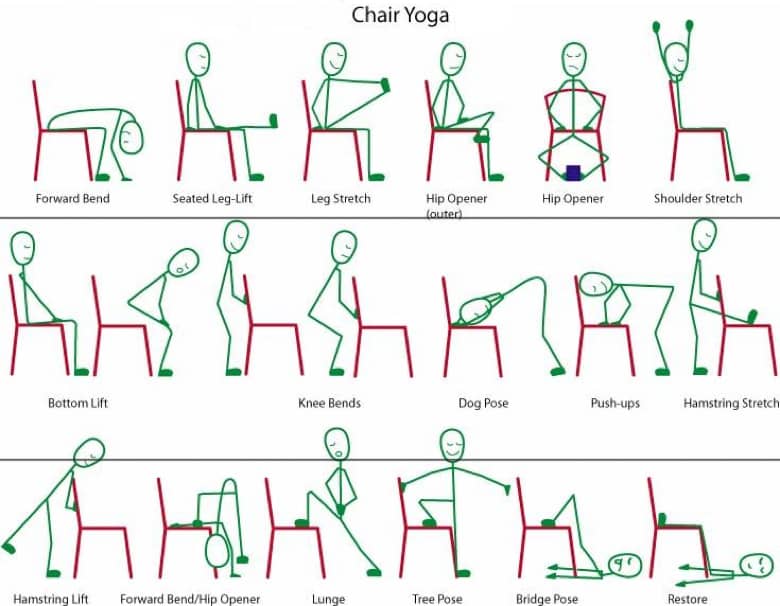 This 5-days program combines various yogic poses and asanas to give you the complete yoga experience. You will practice numerous poses and use a chair as your supporting tool. Once you master yoga in a chair, you will practice without it. Likewise, you will live on a vegetarian diet and learn yogic philosophies. It will help you to gain a new perspective on life.
The 5-days chair yoga in Nepal is a program that will help you to practice your favorite hobby. The delightful part is that it is mostly pain-free!
Itinerary of Chair Yoga in Nepal
---
Yoga is a favorite hobby of many people across the globe. It does not discriminate between age and gender. Regardless of their enthusiasm, some people find it difficult to perform certain yoga poses. This is mostly seen in senior individuals. The itinerary below will highlight some major activities that you will do in this retreat.
Time Schedule
---
6 am to 7 am: Wake up and drink herbal tea
7 am to 8 am: Chair yoga asana
8 am to 9 am: Breakfast
9:30 am to 10:30 am: Meditation
10:30 to 2 pm- Rest
2 pm- Lunch
4 pm to 5 pm: Chait Yoga
5 pm to 6 pm: Yoga Philosophy or chanting or relaxation
Description of activities of Chair Yoga In Nepal
---
Participants should understand that while conducting this 5-days chair yoga in Nepal, we need to consider various factors. For example, we need to know about your medical condition, your medication (if any), and your preference. Once we collect this vital information, our yoga teacher will make a program that addresses all your requirements.
For this reason, we cannot provide you a full-proof description of the yoga poses and asanas. But we can give you information about the basic poses that you will do. Such poses are given below:
Chair cat and cow stretch
Chair raised hands pose
Chair extended side angle
Chair eagle pose
Chair warrior pose
Reverse warrior
Chair pigeon pose
Yogic Philosophy
---
A true yogi is a master of not only asanas but the master of Vedic knowledge too. No, you don't have to learn about the Vedas in detail here! In this chair yoga in Nepal, we shall introduce you to the beautiful Vedic knowledge and how to apply it. This theoretical class can be a bit boring at first but once you get the hang of it, it's very enjoyable.
Food and Accommodation
---
We hold our clients in high regard and always strive to provide them with quality service. With this in mind, we have a quality accommodation facility that comprises of spacious rooms, attached bathrooms, and air conditioners.
In terms of food, you will follow a strict vegetarian diet in this 5-days chair yoga in Nepal. Although it may sound bland, our chefs will prepare delightful dishes that will take your taste buds on an adventure. You can even try authentic Nepali dishes which are tasty. A vegetarian diet is crucial if you want to become a perfect yogi.
Benefits of Chair yoga Retreat
---
Practicing chair yoga has incomparable benefits that not only improve your physical condition but your mental state too. Some of the known benefits of chair yoga are as follows:
As we grow old, our body becomes weak and vulnerable. Through chair yoga, we can promote our strength.
Chair yoga helps in solving many mobility issues and makes the body flexible.
After completing the chair yoga session, you will feel relaxed and lower stress levels.
Proper pain management