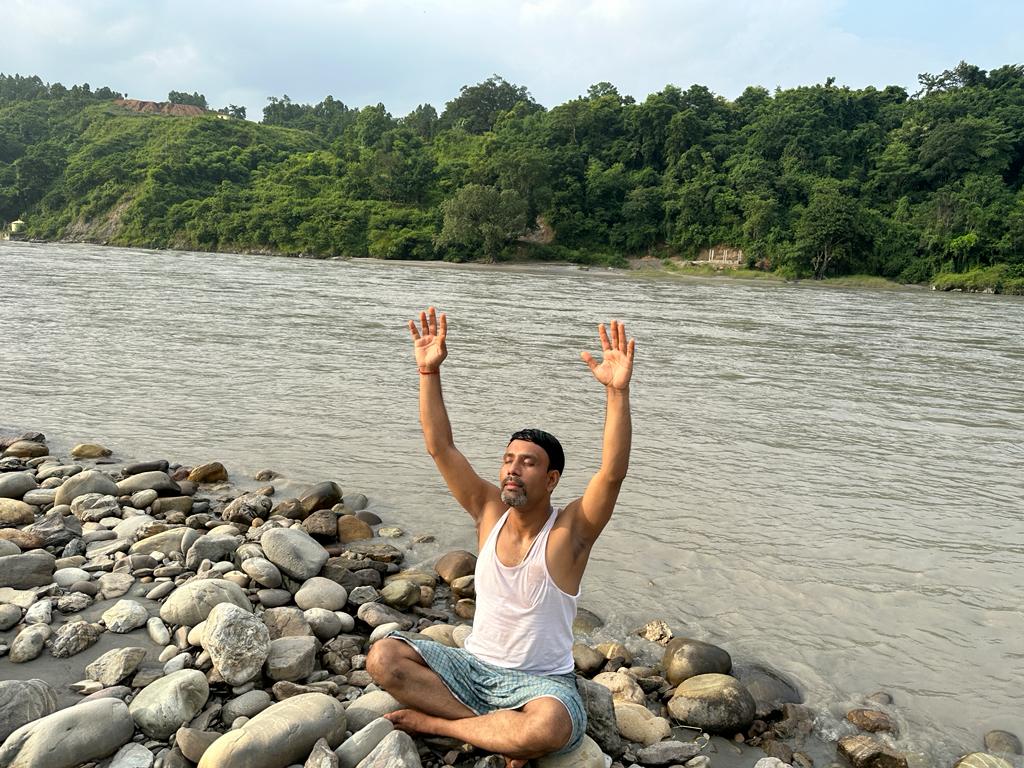 Born in a Brahman family, Yoga Guru Ananda Prakash got precious schooling of Holy Scriptures such as Veda, Upanishad, Bhagavad Gita, Mahabharata and Ramayana of Hindu philosophy from his early childhood. Because of his father's adeptness in the field of Hindu philosophy and mythology, chanting mantras and praying for the God were Yoga Guru Ananda's daily activities. The strict and fascinating rules and custom of not getting allowed to have a breakfast in the morning before chanting Gayatri mantras with his father was his daily routine. Having said that, Yoga Guru Ananda's upbringing had framed his way to the path of spirituality and yoga from his clan since his early childhood. At the age of 14, he was bequeathed the idea and practice of meditation from his father.  The spiritual quest of Yogi Ananda enhanced when he even attained the Buddha meditation at the age of 18. Even before passing the teenage, he developed the spiritual and philosophical yogic life style which further heightened with his formal and informal erudition and auspicious company of remarkable and renowned Yogis. In spite of being the student of science, physics as a major, he persevered his path to spirituality and yoga.
The quench of spirituality led him to India for further study. From one of the reputed and pioneered institutes of yoga Gurukula  Kangri, Haridwar in India, he accomplished the Master's Degree in Yogic Science and Human Consciousness. While his education in India, he happened to meet with Pilot Baba, whom he perceives as his inspiration to endure the path of spirituality. Being inspired by Pilot Baba, along with many other yogis and sadhus, he decided to dedicate his life on the rigorous path of spirituality. Therefore, he started to meditate on the edge of Ganga River. During his arduous meditation and practice, one day he was bestowed a Soul meditation by the grace of almighty. He then commenced to teach and share his intuitive blessing come out as a soul meditation to the world.
Being born in the zone of Lord Buddha, he was somehow inspired by the divine vibration of Buddha himself. Yoga Guru Ananda wanted to contribute something to the humanity. With the hope of extending the idea of his scholarship and attainment as many people as he could he arrived to Nepal. He then established Wholistic Peace Foundation. After few years later Yoga Guru Ananda also set up Nepal Yoga Home. The soul meditation that he created has been granted and initiated about twenty thousand people all around the world so far and the number is on the way to rise more and more.
Besides his long-standing understanding and involvement in the field of yoga he also has graduated with the Diploma Course in Reflexology as well as in Yoga and Naturopathy. He has been devoting his life in the field of yoga and spirituality for fifteen years.  In addition to his expertise on the yoga asana, he also has been adroit in yoga detox, yoga sutra Patanjali, yoga philosophy, meditation and pranayama. He also has been researching in the subject of meditation for his PhD. Because of his deep and profound knowledge and insight in the field of yoga, he has been highly acclaimed and appreciated by his students and in international circle of yoga. His simple and yogic life style appeals and inspires many of his students. Above all, he is the pillar and profounder of Nepal Yoga Home
More About Guru Ananda Prakash
(Doctorate) Running in Meditation from Nepal Sanskrit University.
MSc. in Yogic science  (Masters Degree in Yogic Science and  Human Consciousness)  from  Gurukul Kangri University, Haridwar, India
BSc. (Bachelor of Science) degree in physics from Nepal.
Diploma in Yoga and Naturopathy
Diploma in Acupressure (reflexology)
Ambassador of Yoga Alliance International, India for Nepal.
Grand master on Reiki Healing
Yoga Guru Ananda wrote books on Yoga, meditation, Reiki Healing and reflexology.
Knowledge and experience in Mantra chanting
Knowledge on ancient yogic scriptures including Vedas, Upanishads, the Gita, Patanjali yoga sutra, Vijnana Bhairava tantra etc.
Trainer of lifestyle management, stress management and spiritual transformation.
More than 15 years of teaching experience on yoga and meditation.
Founder of Holistic peace mission and CEO of Nepal Yoga Home
Inventor of soul yoga, soul meditation and soul Healing.
Now Yoga Guru Ananda is trying to teach true information of yoga from Himalayan country Nepal which is a true and authentic source and motherland of yoga.  He is passing this knowledge internationally all over the world through yoga teacher training course and yoga and meditation retreats course. To learn the traditional art of Yoga and Meditation under the guidance of great Himalayan yoga Guru Ananda is really interesting for all.