500 Hours Advanced Yoga Teacher Training Course in Nepal
Group size: Maximum 30 students (To maintain quality teaching) for this advanced yoga teacher training
Price: The complete price of 500 hours Advanced Yoga Teacher Training course is 2000$ (U.S. dollar) in standard shared room, 2300 USD in standard private room, 2400 USD in deluxe shared and 2900 USD in deluxe private. It comprises your complete teacher training classes, accommodation, food, tax and certification.
Yoga style: We offer multi styles of yoga in 500 Hours Certified Yoga Teachers' Training Course. We will teach you Traditional Hatha Yoga, Kundalini Yoga,  Vinyasa Yoga,  Patanjali based Astanga Yoga (eight dimensions of yoga), Iyengar Yoga. Besides, we provide an idea of Shivananda Yoga, Power Yoga, Yin Yoga, Restorative yoga etc. In our yoga style, we teach in holistic approach integrating yoga asana (postures), Pranayama (breathing techniques), Dhyan (Meditation), Mantra Chanting, Yoga detox, yoga philosophy, Yoga anatomy, lifestyle which is the essence of all kind of yoga.
Eligibility: Students all levels- beginner to advance, all style and tradition of yoga can join this 500 Hours Registered Yoga Teacher Training Course (YTTC). Beginners get a chance to enter into the new world of Yoga while regular practitioners will acquire the opportunity to extend their Yogic Knowledge. You can directly join 500 Hours Advanced Yoga Teachers' Training Course without 200 hours YTTC course. Anyone with strong desire to uplift in a new level of peace, harmony, health, and realization can attain this course.
Certification: We are a Registered Yoga School with Yoga Alliance. Upon completion of your training, you can register your certificate with Yoga Alliance to become a Registered Yoga Teacher. Registration with Yoga Alliance is voluntary.
The case of booking cancellation – If you wish to cancel the course, 25 % of the total amount will be deducted and the remaining amount will be refunded within 15 days of your notification. Once you start the course, fees are non-refundable.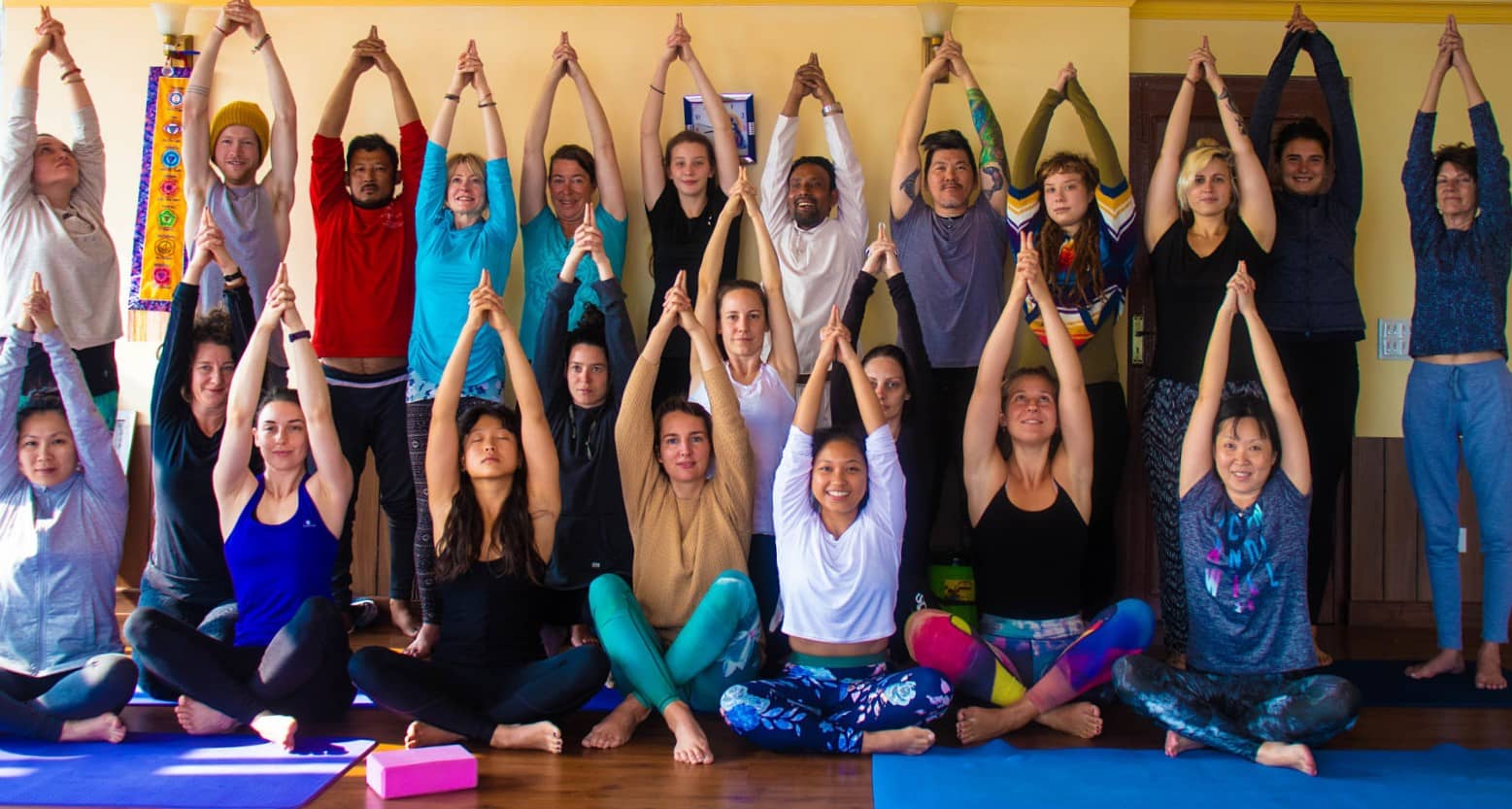 Are you searching for an accomplished and advanced level yoga- meditation course? Want to be a qualified and certified yoga teacher?  Want to be peaceful? Want to know about the real meaning of yoga?  Do you love yoga? Want to deepen your practice? Are you searching for life-transforming yoga and meditation training? If so, our Yoga Alliance Certified 500–Hours Advanced Yoga Teacher Training Course (YTTC) is for you.
Yoga seekers from all level, traditions & styles are invited to join Nepal Yoga Home's Advanced Yoga Teacher Training course (YTTC). 500-Hours Yoga Training is good for those who are dedicated to a higher standard of learning to deepen their yoga, meditation, breathing science (pranayama) and yoga philosophy. This course is advanced not only because you practice advanced asana, but you will develop higher awareness, deeper realization, and peace within you.
Advanced Yoga Teacher Training course endows you an extensive and deeper set of skills and insights to proceed with your practice and teaching towards perfection. It is of four weeks 29 days residential certified yoga training course. Nepal Yoga Home offers the most affordable Yoga Teachers' Training Course with the backdrop of the Himalayas in Kathmandu- Nepal. This organization is registered to Yoga Alliance so that you can teach all over the world after this certification course.
The 500 Hours Advanced Yoga Teachers' Course includes Yoga postures, meditation, breathing science (pranayama), yoga philosophy, yoga detox and yoga physiology and anatomy, lifestyle in depth of understanding. It is a complete training which is an intense, challenging, and rewarding with life-transforming experience. After the completion of the course, you will be amazingly well prepared to teach yoga and meditation.
If you are looking to become a registered and qualified yoga teacher – or if you simply wish to seek the self – our Advanced Yoga Teacher Training curriculum provides the depth and discipline needed to lift you into physical, mental and spiritual attunement. Our advanced yoga teacher training course is designed according to the international standards for yoga courses under the yoga alliance.
After the course, students receive a certificate of completion which is certified by yoga alliance. All yoga lovers are warmly welcome to achieve the advanced path of wisdom (registered yoga teacher certification) at Nepal Yoga Home. This is a great path to take your yoga teaching skills toward a higher level. Immerse yourself in a deeper study with the yoga alliance certified 500 hours advanced yoga teacher training course.
Nepal Yoga home is an internationally recognized organization promoting and teaching yoga- meditation in Nepal. This is an established yoga alliance certified yoga training school in Kathmandu. Nepal Yoga Home is located in a serene environment amidst the mountains, forest and beautiful village at the southern corner of Kathmandu city allowing for inner transformation of body and mind. It specializes in Certified Yoga Teachers' Training Course 200-hours, 500-hours, as well as yoga retreats, yoga tour, yoga hike, yoga holiday, yoga detox, Ayurveda course, and reflexology course, etc. The courses are residential, living with a yogi's family while being immersed in a beautiful, natural and panoramic environment at the side of Kathmandu.
Our yoga school has a team of experienced and highly qualified teachers from various yoga styles and traditions. Thus you can enjoy different styles of yoga and meditation. We love to teach Research base hatha yoga,  Astanga yoga (eight limbs of Patanjali yoga) and Kundalini Yoga. We also have been teaching different styles of yoga to provide the pervasive and comprehensive yoga instructor experience. Our course is greatly widened to teach multiplex dimensions of different yoga styles like Iyengar style of yoga, Sivananda yoga, restorative yoga, Bhakti Yoga, Raj-Yoga, Karma Yoga, Mantra yoga, Kundalini Yoga etc. Our expert team of yoga teachers will be happy to share experiences of different styles with people of all over the world in this advanced yoga teacher training course. This is an utter and absolute yoga course with eloquent effects in your entire life.
This yoga and meditation course acts on conversantly emboldening personal reflectivity and indoctrination concerning physical, mental, emotional and spiritual aspects latent in each pose, pranayama, and meditation. We welcome students from all yogic paths who desire to attain yoga and meditation course for personal investiture and to be a certified yoga teacher (Yoga Guru).
Our 500- Hours Advanced Yoga Teacher Training Course furnishes an ambient, theoretical and pragmatic hands-on training program. Trainees come forth from our YTTC as confident teachers with a strong and solid teaching skill set ready to start their career.  Trainees also gain a comprehensive understanding of the practice of yoga asanas, meditation yoga philosophy, physiology, mantra chanting, chakras, anatomy, mudras, pranayama, and other traditional and modern research base Yoga techniques. We are teaching various skills to help students to meet their goals and interest by careful observation, motivation, and guidance.
Highlights of 500 hours Advanced Yoga Teacher Training
Internationally recognized Advanced Yoga Teacher Training certificate is rewarded to the successful participants of 500 YTT course.
Regular yoga, Meditation, and pranayama (breathing science) classes.
Daily healthy yogic diet and Varieties of herbal tea, Nepali tea and juices etc.
Comfortable and cozy accommodation.
500-hours Advanced Yoga Teacher Training course in a sober surrounding surrounded by the winsome beauty of the dense forest, shackles of high mountains, Snowy Himalaya views, and beautiful village landscapes.
Advanced yoga and meditation techniques are taught by highly experienced yoga teachers.
Effective Pranayama, Mudra and Banda techniques.
Daily discourses on yoga philosophy including the essence of ancient scriptures on Patanjali Yoga Sutra, Bhagavad Gita, Veda etc.
Energetic mantras chanting to feel the powerful vibration
Opportunity to get feedback from your teacher and get their kind supervision.
24 hours Wi-Fi connection
Daily workshop
How you'll be benefited from an Advanced Yoga Teacher Training course?
There are many reasons why someone has an interest in an advanced yoga course. For some, teaching yoga is an ideal career and right path while for others, it is enthralling for a happy and harmonious life. Whatever the interests are, the 500- hour Advanced Yoga Teachers' Training helps you on multiple sectors of life. This course is very lucrative to be a qualified and registered yoga teacher to teach all over the world. It is a congruous experience for individual progress as well. The 500 Hours Advanced Yoga Teachers' Training Course is an admirable holistic education for the body, mind, and spirit. With the training program, you'll have a juncture to extend your current knowledge, for your own self-exploration, personal development, as well as external dimensions of life. It becomes superb experience with yoga to the next level.
Going through this Advanced Yoga Teachers' Training course you learn more than 200 yoga asana (postures), various styles of meditation. The meditation training comprehends the techniques used for self-mastery, stress-elimination, and techniques used for physical, mental as well as spiritual evolution. This Yoga Course helps you to proceed through life challenges and transitions in a comfortable manner without stress.
The 500 Hours Advanced Yoga Teachers' Training in Nepal Yoga Home is the royal path to learn about the ancient texts of yogic science. By acquiring this knowledge, you'll have the chance to plunge into the philosophical side of yoga which makes clear about the reality, objective and meaning of yoga.
Yoga asanas (postures) give you the tools for better self-care to realize the strength and health. You will learn each asana thoroughly with correct alignment and benefits. It is the combination of integrated yoga systems where you learn about your authentic body in detail and relation of the postures.
The classes of Anatomy and physiology immerse you in functional anatomy so you can understand how the poses impact your body and also give the idea to make them perfect. This learning helps to recover current injuries and you limit future injuries. You get the concept to modify and adjust poses as well as learn challenging asanas. This Yoga and Meditation Training covers people of all physical levels together to learn from each other's different body types, injuries, flexibility levels, weakness, and strengths.
You will explore your development while becoming an internationally certified yoga teacher after Five Hundred Hours Advanced Yoga Teachers' Training course. You will get unlimited benefits from the study of yoga science, yoga philosophy, anatomy, and physiology, asana, pranayama, chanting, meditation, psychology, underlying of Ayurveda, ethics, and lifestyle.
Advanced Yoga Teacher Training course is an excellent medium to expand and still the mind with appropriate meditation! Here, you will study the Yoga Sutras, the ancient philosophical texts of yoga that teach practitioners how to manage the workings of the mind through focus, discipline with the practical approach of asana and meditation including its accomplishment. You will learn the obstacles on the path of yoga that we all face. You will learn how the yoga shifts your awareness and create a more positive frame of mind.  One of the greatest achievements of the 500 Hours Advanced Yoga Teachers' Training is the self-discovery, self-actualization. This is the time to approach life with a heightened sense of awareness.
500 Hours Advanced Yoga Teachers' Training has been framed to endow insightfulness and higher experience of yoga. The trainees acquire newer understanding about themselves and their practice. Yoga and meditation is the traditional and cultural teaching of this country, Nepal where you will inherit the fruits of the wisdom of happy and healthy science with a depth of yoga study professional benefits of Advanced Yoga Teacher Training course
Professional benefits of Advanced Yoga Teacher Training course
There are many professional benefits of 500 Hours Advanced Yoga Teachers' Training Course. The students get the following advantages:
Eligibility for registering with Yoga Alliance as a Registered Yoga Teacher (RYT) and get tips for commencing your own yoga center, finding new students, etc.
The choice of self-employment as well as the flexibility of teaching both nationally and worldwide.
Assuredness in teaching and imparting yoga as well as higher skills in yoga teaching
Increased confidence in using yoga tools for better alignment.
Well preparation to tackle many of the aversive situations that might arise in the class
Caliber to teach a large number of students
Graduate from the YTTC that has disseminated many yoga teachers.
Some extraordinary from the crowd- many people participate in the 200 Hours Yoga Teachers' Training but the 500 hours certification shows your commitment to your students for better teaching.
Once you complete advanced yoga training you will be able to develop your own peerless teaching style.
What will you learn and experience in this advanced yoga teacher training course?
You will submerge in entire core Hatha Yoga, Kundalini yoga and Astanga Yoga practice in depth with a detailed study of its origin to modern form.
500 Hours Advanced Yoga Teachers' Training course in Nepal Yoga Home includes explanations in detail of yoga- asana, pranayama and their therapeutic effect on human body and mind. Also, you will learn the benefits, risks, variations, and modifications of yoga-asana.
Nepal Yoga Home in Kathmandu is teaching yogic lifestyle becoming sync with nature, which is healthy, happy, and harmonious. This is the way to be free from stress and to prevent diseases. This course brings every moment of the program with awareness, happiness, spiritual growth and transformation.
Enjoy healthy and nourishing food at the foot of high mountains. We grow organic food in our garden and provide to our students for better health which gives positive impacts on the practice of yoga and meditation. 
We do some yoga workshop choosing different topic according to interest of student .  The workshops will focus on topics such as hip opening, headstand and inversions, back bending, arm balances, breathing science, diet, traditional medicinal system etc. Workshops include hands-on adjustments, developing and implementing yoga programs, anatomy, meditation and many more.
Learn advanced ways of asana, meditation, pranayama, mudra, banda, and yogic detoxification.
Safe, clean, comfortable and non-distracting accommodations to support you in yoga journey.
Highly Trained and well-experienced and award-winning yoga instructors and learn innovative teaching techniques.
Will learn philosophy on the base of ancient scripture like: Yoga Sutras of Patanjali, veda, Upanishada, Bhagavad Gita etc.
The element of Yogic anatomy, including seven Chakras (seven energy centers), seven bodies, five Koshas (five kinds of the body), three Nadi (three different energy path) etc.
We are teaching effective soul meditation and other styles of meditation. We believe in the practical aspects of mediation rather than only philosophical. Our meditation is more easily practiced, simple, accessible and sustainable for adopting in your daily life.
Heal yourself and others- Yoga has great healing power to help eliminate stress, anxiety, depression and many more problems.
Learn science and cause of stress and how stress leads to psychosomatic ailments. Experience how yoga helps to face stress and manage your life.
Learn Yoga therapy for different diseases like back pain, sciatica, diabetes, high blood pressure, asthma, constipation, heart disease, yoga for looking youthful, positive health, headache, migraine, etc.
Loving, & nurturing learning environment with small class size. One of the most affordable Yoga Teacher Training offered worldwide in an incredibly stunning & peaceful setting of Kathmandu.
 Concept of Ayurveda, natural home remedies, & yogic healing herbs.
Mantras practice and their incredible power, meaning & uses.
An extensive teaching practicum that enables you to transfer that information to students.
The best yoga teacher training school in Kathmandu with experienced and registered team of yoga teachers with more than 15 years of teaching experience.
Good practice of yogic relaxation (Yoga Nidra) for inner healing and self-transformation.
Direct experience – instructing, sequencing, adjusting and inspiring.
Apply the concepts while assisting your mentor in class: observe and assist with classes
Understand the business of yoga including how to operate a yoga studio or private practice, marketing and promotion, and how to retain students.
Enhance your teaching skills and brush up on your yoga style.
Help answer those seemingly unanswerable questions in life.
Share your previously gained knowledge with your friends
Take time for yourself, read the universe, and reflect on the importance of nature for our yoga education
Be a certified and qualified yoga teacher with yoga alliance international 500-Hour course
Enjoy Nepali culture, Nepali fashion, Nepali food, and Nepali language.
Become part of a globally- recognized symbol of standard based knowledge in the field of yoga.
Our Advanced yoga teacher training course is internationally recognized and registered with Yoga Alliance. Our main teacher Acharya Prakash is an ambassador of Yoga Alliance International for Nepal. Get the chance to learn directly from him.
Learn how to integrate asana, pranayama, and meditation and other yogic principles in practical life.
The curriculum of Advanced Yoga Teacher Training course
Our curriculum of advanced yoga teacher training course is developed on the base of Yoga Alliance 500 Hour Advanced Yoga Teacher Training standards. It has been formulated and shaped by our highly experienced teachers. Our curriculum takes you through the essential elements required to deepen and enrich your own yoga practice and to teach students with confidence. Our curriculum includes the following:
Yoga Asanas (Postures)
Pranayama Mudras and Bandhas (Breathing science)
Meditation: Theory & teaching
Yoga Philosophy
Mantra chanting & Kirtan
Ayurveda & diet/ Yogic lifestyle
Yoga detoxification
Therapeutic yoga for different diseases
Teaching practice and teaching methodology
Anatomy and physiology
1.    Yoga Asanas (Postures)
This course solders the practice of techniques and alignment for approximately 108 of the most effective and advanced Asanas. You will practice traditional, research-based, modern and advanced variations as well as precise corrections for a deeper understanding of Yoga Asanas. You will learn the following group of yoga postures:
Micro-level yoga asana group
Yogic warming up group
Sun salutation postures
Moon salutation postures
Balancing postures group
Vajrasana postures group
Padmasana postures group
Inverted postures group
Forward bending postures group
Backward bending postures group
Twisting postures group
Stretching postures group
Strengthening posture group
The sequential group of yoga posture
Standing postures group
Seating postures group
Lying postures group
Relaxing postures group
Meditative postures group
Arm balance postures group
Bending yoga postures
Chest opening yoga postures
Core yoga postures
Hip opening yoga postures
Restorative yoga postures
Therapeutic Yoga Postures for different problem etc.
Advance level yoga postures group
2.    Pranayama, Mudras, and Bandhas (Breathing science)
Respiration (prana) is the base of life. It is a source of vital energy. Pranayama or breathing exercises promote proper breathing art. Proper breathing is for bringing more oxygen to the blood and to the brain and to control the vital life energy (prana). Pranayama is the key for deeper meditation. The breath is a gateway to enter into you. Students develop better into their own practice of pranayama by scouring the entire body through pranic (breath) energy. Students gain the aptitude to teach their pranayama in a creative way. Here students learn how to teach advanced pranayama and pranic energy handling techniques, bandhas, and mudras.
Mudras and bandhas knowledge helps to understand the pranayama more detailedly. The Sanskrit word (mudra) means a seal or a lock. It denotes positions which shut the body aditus, where the fingers are held together with special hand gestures. Mudras require a conjunction of breath with special postures of body and fingers to incite various energy centers and meticulous tract in the body.
 "Bandha" means to hold or lock in the Sanskrit language. It also denotes to a posture in which certain organs or parts of the body hold, braced and controlled. The energy flux to a specific domain of the body is interrupted during bandha practice. When the Bandha is discharged, this makes the energy to flow more decisively which recaptures the entourages in energy points. The main learning purposes of breathing science are:
Introduction of pranayama,
Benefits of yogic breathing (pranayama).
The practice of more than 25 techniques of advanced level pranayama.
Proper use of the Bandhas (Lock of breath)
Proper use of the Mudra (Seal of breath)
The glory of pranayama in Hatha yoga and Astanga yoga
Types of pranayama according to Patanjali
Evolution of pranayama
Anatomy and physiology of breath
Teaching methods of pranayama
How to help students correct a range of breathing abnormalities.
3. Meditation: Theory & teaching
In the pristine period, yoga Ashrama had an exuberant meditation practice that has been vanished in many contemporary traditions. Nowadays, some Yoga schools teach meditation of Buddha. This 500 hours yoga teachers' training explores various deeper and advanced meditation techniques. During our yoga teacher training courses, we also teach unique and efficient soul meditation techniques developed by the Acharya ji. Meditation lessons will make you clear about the introduction of meditation, mind-meditation relation, how we can remove mental problems through meditation etc. There are more than one hundred sixteen techniques of meditation in ancient yoga scripture, among of them we will teach –
Breath meditation
Silence meditation
Mantra meditation
So- Ham meditation
Buddha style of meditation
Walking meditation
Vipassana meditation
Ana-Pana meditation
Mindfulness meditation
Chakra meditation
Kundalini meditation
Dynamic meditation
Jyoti Meditation
Sthul meditation
After learning these techniques, you understand how they can be incorporated into a modern practice and teach to your student.
4. Yoga Philosophy
Yoga philosophy has a significant role in yoga teachers' training. In yoga philosophy, we will teach practical philosophy based on authentic scripture of yoga like Patanjali yoga sutra, Bhagavad Gita, Veda, and Upanishads etc. The following topics will be covered in the yoga philosophy curriculum:
Meaning of yoga, concepts and history
The different path of yoga-(Hatha yoga, Astanga yoga, Raja yoga, Bhakti yoga, Karma yoga, Kundalini Yoga, Nada Yoga, Gyana Yoga, Tantra Yoga, mantra yoga, Kriya yoga)
Special study of Astanga Yoga & Hatha Yoga
The chakra systems, its qualities, activating and balancing techniques.
Energy or Nadi system
Five types of bodies (Koshas)
Kundalini energy and its function and power
A relation between Guru and disciple
The mind, its mystery, and control
Bhagavad Gita– The Bhagavad Gita consists of 18 types of yoga in each chapter. The beginning six chapters have been categorized as the karma yoga (yoga of selfless action) segment since they fundamentally talk on the science of the individual consciousness realizing communion with the final consciousness through owns duty done for good of others. The middle six chapters have been characterized as the Bhakti Yoga (The path of devotion to the ultimate source). The final six chapters are considered as the Gyan Yoga (Path of realization through knowledge). Following topics will be covered in Bhagawat Geeta:

Study and its application to life.
Karma Yoga (Path of selfless action)
Bhakti Yoga (The path of devotion)
Gyana Yoga (Path of knowledge)
The eternal reality of the soul's immortality.
The eternal duties of human beings
The science of self-realization
The individual consciousness and ultimate consciousness
The three divisions of material existence

Yoga Sutras of Patanjali– There is the most important knowledge on the path of yoga. Patanjali is the pillar and milestone in the Yoga tradition. Patanjali formed the Ashtanga (eight-limbs) Yoga around 2500 years ago. Yoga sautras is divided into 4 chapters: Samadhipada, Sadhanapada, Vibhutipada,  Kaivalayapada. Patanjali Yoga Sutra covers the following topics-
The concept of yoga according to yoga sutra.
Five kinds of vritti (movement of mind stuff).
Four kings of Chitta ( State of mind)
Hindrances on yoga practice.
The concept of God and guru on yoga sutra.
Pancha klesha (five impurities of a human being)
The way to achieve mastery over Chitta vritti (fluctuation of mind).
      3.Veda and Upanishads
The word 'Veda' means Wisdom or Knowledge. The Vedas are the oldest written text on our planet. They date back to the beginning of human civilization and are the earliest literary records of the whole human race. The Vedas are divided into four groups, Rigveda, Yajurveda, Samaveda, and Atharvaveda. Each group has an original text (Mantra) and a commentary portion. The portions interpret the philosophy of the original texts to constitute the Upanishads. Listening to the Vedic chanting and practicing mantra calm the mind. In fact, chanting is considered to be one of the vital forms of meditation. Vedic chants help in relieving stress and promoting efficiency.  We teach the following from the Veda and Upanishad –
The concept of the application of Vedic knowledge for health and healing.
Study of Vedantic meditation techniques
Explanation of Vedantic mantras
Some important way of yoga from Veda and Upanishads
5.  Mantra chanting & Kirtan
Mantras are ways of using sound vibrations to affect consciousness and receive the benefits of peace of mind. Mantra chanting is a powerful way to integrate body, voice, mind, and emotions. Certain vibrations that are produced while chanting enhances physical and mental health. The method of teaching is traditional, where chants are taught orally to students. Chanting has multiple benefits when done under good guidance. The practice of mantra chanting generates certain vibrations in different parts of the body. Hence, when applied properly, it enhances physical and mental health. These sacred mantras open us to our spiritual path. Students will learn the following:
Chanting of different mantras which are universally relevant and accepted.
The basic rules of chanting, with an explanation of the meanings of these chants
Correct rhyme and spelling of the mantras
Kirtan chanting in the group
Positive effects on the emotions
Correct pronunciation and mental attitude
Mantra for the Modern Yogi
Mantra meditations
Mantra yoga
6. Ayurveda & diet/ Yogic lifestyle
We offer you a basic knowledge of Ayurveda (Traditional medicinal system), which can help in healthy living, how to use Ayurveda according to dosha and to diagnose and cure, and general use of Ayurveda. The practice of Yoga should be complemented by the right kind of food in order to fully benefit from what yoga has to offer. So we will teach what to eat, how to eat, how to balance the food, how to cook, and which foods are good to maintain a healthy life. You will be guided by our teachers in the following topics.
Basic knowledge of Ayurveda
Importance of attitude and yogic life
Subtle aspects of the vegetarian diet
Health tips
Self-discipline
Social discipline
Mitahara or balance diet
7. Yoga detoxification
The yoga detoxification classes make you clear about yogic cleansing techniques and their practical application. In yogic detoxification, we will teach theory and practical aspects of Sat-Karma (six yogic cleansing) and do fasting for body detox. Sat karma (sometimes known as Sat kriya) has two components: 'sat' meaning 'six' and 'karma' meaning 'process'. The word 'kriya' or 'karma' is used in Yoga in a special technical sense regarding the techniques of cleansing. The main six cleansing processes are Neti, Dhauti, Nauli, Basti,  Kapalbhati  & Tratak.
Neti: nasal cleansing, including jala neti and sutra neti.
Dhauti: the cleansing of the digestive tract including shankhaprakshalana
Nauli: abdominal massage.
Basti: colon cleaning.
Kapalbhati: purification and vitalization of the frontal lobes.
Trataka: blankness or light gazing.
8. Shankhaprakshalana (intestinal cleansing)
Shankha prakshalana (sometimes referred as laghu shankha prakshalana) is a yoga kriya that cleanses the intestines. The word Shankhaprakshalana comes from two words. Shankha means "conch" and prakshalana means to wash completely. The word shankha prakshalana is used to cleanse the entire alimentary canal from mouth to anus. You will learn the proper practices for conducting this cleansing which includes drinking warm salty water and selected asana for cleansing. We will focus on perfecting the following five asanas, i.e. Tadasana, Tiryaka Tadasana, Kati Chakrasana, Tiryaka Bhujangasana and Udarakarshanasana.
9. Workshops
Every day we chose a different topic for the workshop.  The workshops will focus on topics such as hip opening, headstand and inversions, back bending, arm balances, breathing science, diet, traditional medicinal system etc. and are conducted every day to help you understand and practice these safely and effectively. Workshops include: hands-on adjustments, developing and implementing yoga programs, anatomy, meditation and more.
10. Therapeutic yoga for different diseases
Therapeutic yoga is the application of yoga postures, pranayama, meditation, and yoga detox processes to treat the different diseases. This involves instruction in yogic practices and teachings to prevent, reduce, or alleviate structural, physiological, emotional and spiritual pain, suffering or limitations. Yoga helps to recover stress, anxiety, depression, chronic pain, sleep disorder, and enhances overall well-being and quality of life. Yoga is recognized as a form of mind-body medicine that integrates an individual's physical, mental and spiritual components to improve the health.
On this advanced yoga teacher training, you will learn yoga as a good therapy for different diseases. This covers the basics of therapeutic yoga. Our student will learn benefits of each posture and how to give one on one therapeutic yoga sessions. We teach different issues from simple to complex. We teach therapeutic yoga for the following, but this can inspire ideas for other cases and diseases: yoga for back pain, yoga for stress and anxiety, yoga for depression, yoga for high blood pressure, yoga for constipation, yoga for heart disease, yoga for diabetes, yoga for pregnancy, yoga for looking young, yoga for positive health, yoga for headache and migraine, yoga for arthritis, yoga for asthma, yoga for sleeping disorder and more. 
11. Teaching Practice and teaching methodology
The Nepal Yoga Home manages the teaching classes and classes can be taught in Nepal Yoga Home or at other yoga institutions. Teaching practice will build confidence for the students. Our practicum includes practice teaching, receiving feedback, observing others, hearing and giving feedback, and also assisting students while someone else is teaching. Daily chanting, meditation, and pranayama provide spiritual structure and way of teaching. Our teaching methodology includes the following different skills for students:
Principles of demonstration
Observing, assisting and correcting
Instruction, teaching styles, qualities of a teacher
Planning and structuring a class
Alignment and hands-on-adjustment
Dealing with injuries and safety precautions
Business aspects of teaching yoga
How to teach the big groups
How to manage classes for different level students at the same time
Learning how to structure a class
How to sequence a class
How to customize a class
Advanced modifications techniques
How to teach meditation
12. Anatomy & philosophy
In 500 Hours Advanced Yoga Teachers' Training in Kathmandu, you learn practical anatomy and physiology. You understand how to apply anatomy and physiology in yoga classes which will improve your own practice as well your teaching and correction skills. Besides, you can be more confident in your knowledge of anatomy and gain more insight into the injuries and special conditions that your students may be dealing with. We will focus on practical applications of anatomy in postures, pranayama and meditation. This includes both human anatomy and physiology (bodily systems, organs) to incorporate into yoga practice. Our yoga anatomy and physiology courses will cover:
Various risk factors associated with asana practice, in both simple and more complex postures, as well as strategies that can help prevent injury
Breathing and respiratory system
Meditation and mind relation
Yogic energy channels (Ida, Pingala, and Sushumna)
The relation between yogic energy system (Chakras) and endocrine gland system.
Study of the nervous system, brain, endocrine glands and how they relate to the practice of asanas, pranayama, and meditation
Skeletal structure in well understanding
Muscular system, connective tissue, the major joint of a body
Information on the musculoskeletal system
Basic Anatomy of classical Hatha Yoga asanas
Physiology of main yoga asanas
Physiology of breathing
Physiology of stretching
Common yoga injuries and more
A daily schedule of advanced yoga teacher training
Each day includes yoga and meditation classes in progressing level (basic to higher). Daily yoga classes, guided meditation, pranayama, philosophy & yogic discussion by nationally renowned teachers (Guru) provide you life transforming experience.  Here is a sample schedule may change according to subjects, topics, teacher, climate and other situations.
7.00 – 8:30 am – Yoga Asanas (Yoga Posture)
8.30 – 9.30 am – Breakfast
9.30 – 10.30 am – Meditation, relaxation and breathing
10.30 – 12.00 pm – Sight-seeing, hiking / Karma yoga etc
12.00 – 1.00 pm – Yogic Relaxation and mantra chanting
1.00 – 2.00 pm – Advance Level Yoga Practice
2.00 – 3.00 pm – Lunch
3.30 – 5.00pm – Textbook of yoga
5.00 – 6.00 pm – Tea break
6.00 – 7.00 pm – Yoga philosophy/chanting
7.00 – 8.00 pm – Dinner
8.00 – 8:30 pm – Celebration/ question answer/ campfire etc.
Note: Classes are held 6 days a week and 7th day is for optional trips to cultural and spiritual places. One hour selfless service (karma yoga) to the yoga home community is optional.  
What to bring?
Casual comfortable clothes, slipper or sandals, rainwear (only in rainy season), flashlight, insect repellent (only in summer), alarm clock, water bottle, sunscreen…etc.
500- Hours Advanced Yoga Teacher Training Course Dates
This Yoga Teacher Training courses dates are posted in advance. The recent 4 weeks (one month) advanced level yoga study dates are:
Jan. 1st – Jan. 29th
Feb. 1st – Feb, 29th
Mar. 1st – Mar. 29th
Apr. 1st – Apr. 29th
May. 1st – May. 29th
Jun. 1st – Jun. 29th
Jul. 1st – Jul. 29th
Aug. 1st – Aug. 29th
Sept. 1st – Sept. 29th
Oct. 1st – Oct. 29th
Nov. 1st – Nov. 29th
Dec. 1st – Dec. 29th
Application process: Submit an application form which is available in booking menu or E-mail directly at nepalyogahome@gmail.com  or achtirtha@gmail.com  or  prakashyogaworld@gmail.com
Advanced Payments 
The balance payment can be paid through a bank transfer or western union money transfer for registration. The remainder of the money can be paid on arrival by credit card or cash in any currency. If you are coming with your debit/Credit card, you can get Nepali Rupees in cash from the local ATMs. Check with your bank for the transaction charges with credit and debit cards. The bank transfer charge should be covered by the student.
Non-refundable $700 USD deposit required to register.
Full payment due the first day of course.
Cancellation & Refund
The case of booking cancellation – If you wish to cancel the course, 25 % of the total amount will be deducted and the remaining amount will be refunded within 15 days of your notification. Once you start the course, fees are non-refundable at any circumstances. However, the student can reschedule for the next available date of Advanced Yoga Teachers' Training under the agreement of Nepal Yoga Home and student.
Accommodation & Meal
Nepal Yoga Home- Kathmandu provides accommodation with comfortable rooms for spiritual studies. The double room will be shared by two people. If you need a private or deluxe room, note that the cost will be more than your package price.  You will enjoy beautiful gardens, nice views of Himalayas, mountains, village and Kathmandu city from Nepal Yoga Home. We have 24-hours hot water, Wi-Fi service. The students participating in Advanced Yoga Teacher Training in Nepal Yoga Home will serve pure vegetarian/ vegan healthy and yogic food 3 times a day, 3 cups of tea and fruits
Yoga books defined in our syllabus 
Yoga classes
Three times vegetarian meal (Typically contains Nepali Food, vegetables and fruits), If you feel you need extra supplementary you can buy yourself from near place.
Few cups of tea
Tax
Accommodation
laundry service
 The meals of your personal interest will not be offered in our expense.
 Your personal yoga mat
 Pick up / drop service
 sight-seeing cost
 We would also not provide the personal sleeping bags and bags
 The visa fee you would have to pay for travel, medical insurance and airport tax.
 The charge for accommodation in Kathmandu in you early arrival before class starts in our school
 We also don't include the cost of international flights
We are also working with Inspirock Trip Planner, You  can  find us  Here