Two Weeks Pranayama and Meditation Retreat in Kathmandu For Beginner
---
Introduction to the retreat
When we are in a happy mood, our breath is more smooth and natural. But when we are stressed and anxious, breathing pattern also becomes unnatural. Learning the relation of breath and our emotion, yogis had discovered different kinds of yogic technique to regulate our breath through which we can control our mind and emotions. This brings easiness in meditation. This meditation retreat in Kathmandu brings you a very systematic method of learning meditation and getting stepwise progress to deepen inside. The two weeks breathing and meditation retreat in Nepal will focus on learning these techniques and applying it as tools for succussing in every stage of meditation.
Why this breathing and meditation retreat
In yoga, we learn five different sheath of our body which is physical, energy, mental, intellectual and spiritual body. Generally we understand ad think about only a physical body.  People are becoming conscious about the aspect of emotion and mental body. We don't give as importance to the spiritual body as other body. It is the soul of all the body. What happens if we don't water the roots of the plants? Meditation is like water to the true self.
The two weeks breathing and meditation retreat in Kathmandu is a journey that helps to unite your body and mind with the soul. Yoga is defined as the unity between individual soul and universal soul. We will understand and learn how to have overall growth in our life with this ancient yogic techniques and practises. It will help to provide us physical, mental and spiritual growth and health. This meditation retreat class is helpful to every aspect of life. The main advantage of this meditation retreat retreat in Kathmandu are;
learn ancient techniques of breathing exercises
understand the characteristic of mind
understand and remove the obstacle and blockage of meditation
learn a systematic method of meditation
learn various school and types of meditation
learn relaxing and rejuvenating meditation
learn sanskrit chanting and vajans
learn about the eastern tradition and philosophy
learn Buddhist philosophy and meditations
learn and practise silence meditations
enjoy the being with nature
enjoy the inner journey of self-transformation
learn how to cope with stress and anxiety
get an peaceful and natural environment for the practise
learn with very experienced teachers
guidance from basic to advanced level of meditation
organic and healthy satvik food
Who can join this breathing and meditation retreat in Kathmandu?
If you are a beginner and want to learn from very basic and also want to have a glimpse on the ancient techniques of pranayama and meditation, you will find this retreat as best for you. You will learn a systematic way to progress on each level from beginner to intermediate. Here you will get an environment to practise and experience meditation with our well-structured schedule and experienced teachers.
Syllabus of Retreat
According to hatha yoga sutra, when one succeeds to become still in a fixed asana, the practise of pranayama is done. When the breath is regulated, mind is more focussed. Hence, the meditation begins with a focus mind. This retreat will cover the detail study of asana, pranayama, mudra and bandhas and its uses in the meditation.
Pranayama
Generally we understand pranayama as a technique of breath control, which is somehow true if we consider the practises of pranayama. Pranayama is the extension of vital force of life. It helps to cleanse and activate energy channel and regulate the energy in the Pranamaya Kosha (energy body). It just not oxygenates the cells of the body but also prepare us for the meditation. As the breath become still, the mind automatically starts to become still. So, it is a very systematic practise that helps us in the inner growth, and enhances us in the spiritual journey.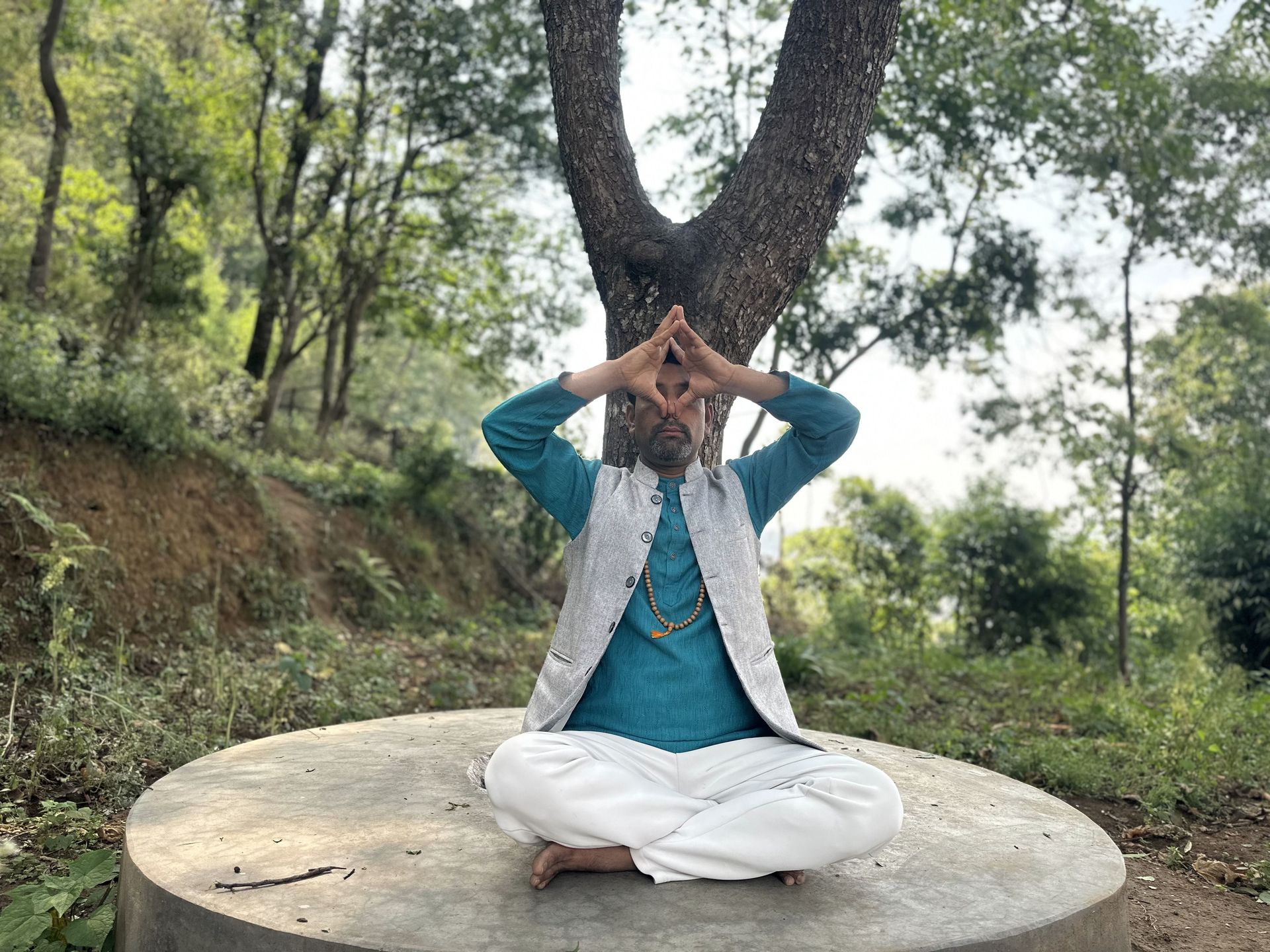 You will learn following pranayama
Akara pranayama
Ukara pranayama
Makara Pranayama
Aumkara pranayama
Divine pranyama
Udar pranayama
Vakshya Pranayama
Skanda Pranayama
Yogic pranayama
Khanda Pranayama
Prakartik Pranayama
Throat lock
Abdominal lock
Root lock
Great lock
Ujjayi Pranayama (victorious breath)
Kapal bhati Pranayam I, II
Swana Pranayama
Anulom Vilom pranayama I, II, (slow and fast)
Bhastrika Pranayam (bellows breath)
Nadi Sodhana Pranayama (Nadi cleansing)
Sitali Pranayam (cooling pranayama)
Surya vedi pranayama (Right nostril breathing)
Seetkari Pranayama (hissing breath)
Chandra vedi pranayama (Left nostril breathing)
Meditation
Meditation is the natural state of the mind. When the mind is calm, we attain the peace within self. According to Patanjali Yoga Sutra blissfulness is our true nature. But as we are busy in competitive world, with ambitions and never ending desires, we stay in the very unnatural state of mind. As a result, we become more stressful and anxious. Yoga brings us the technique to calm down our mind.
The journey starts with learning the nature of thought and emotion. We learn to control and direct them. We attain this state without any effort, which is meditation. When the meditation enhances we attain the final goal of yoga that is the blissful silence state of mind which is complete by itself. It is called Samadhi. following meditation are included during this meditation retreat in Kathmandu:
Aumkar meditation
Kaya Sthiyarya meditation
Anapana meditations
Vipassana meditation
Breathing meditations
Here and now meditations
Navidarshan meditatiosn
Silence meditations
Nadbramha Meditations
Dynamic meditations
No head meditations
No mind meditations
Kundalini meditation etc
Philosophy
During two weeks you will get the concept of breathing and meditation through philosophy class.  It helps to make clear concept how to take spiritual journey further ahead. Thee part of philosophy we will be discussing in the following topics.
What is Yoga
Different concept of yoga from enlightened masters
What's the relation of yoga and meditation
What is the main goal of meditation
Types of Yoga and meditations
Origin and history of meditation
Stress management through meditation
Concept of chakra (energy center) and Nadies ( Energy channel)
Pancha Pranana and Pancha Bhut
Different aspects of pranayama
Benifits of pranayama in modern lifestyle
Importance of pranayama in spiritual journey
Mind, Intellect and ego
Mudras and Bandhas
Mudras are the gestures that enhance our psychic level. It is generally practised during meditation to bring more alertness and calm down the mind.  Especially the hand gestures like gyana mudra, china mudra, Bhairava mudra are commonly practised during the meditation. It has a very subtle but powerful effect in our mind. It enhances our awareness and concentration. Bandhas are the locks that are generally practised in pranayama to regulate the energy flow. Jalandhar banda (the neck lock), uddiyan bandha (abdominal lock), mula bandha (perineum lock) and mahabandha ( the great lock ) are the main bandhas that is practised in the advance form of pranayama.
You will learn following mudras during your stay in meditation retreat in Kathmandu
Hasta mudra
Pranic mudra
Mana mudra
Meditative mudra
Relaxing mudra
Element mudra
Balancing mudra
Kaya Mudra.
Banda Mudra
Adhara mudra etc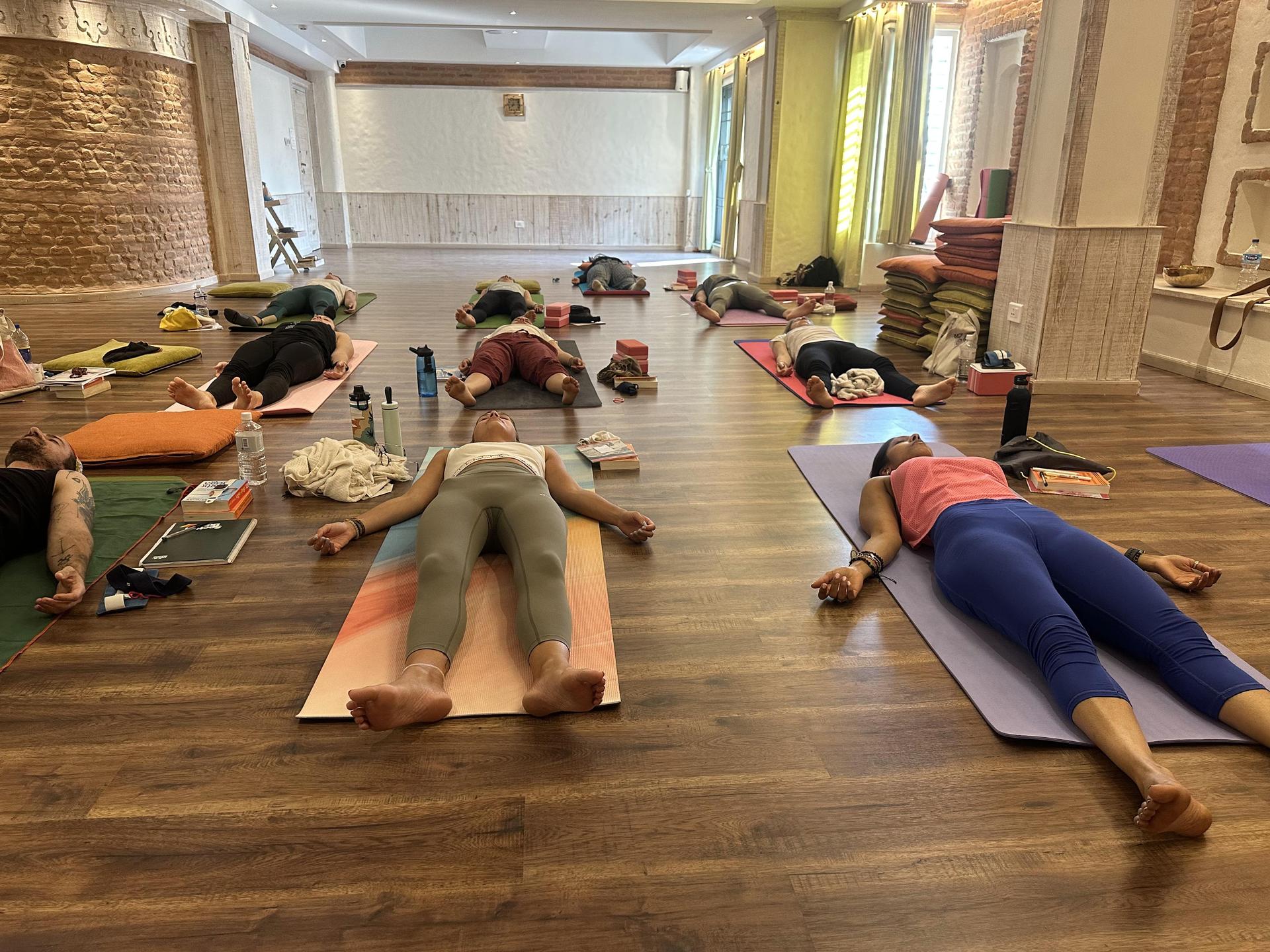 Chanting and relaxation
Chanting and relaxation has equal importance for meditation. After chanting mind and emotions are ready for mediation so chanting will be including daily basis to resist the continuous involuntary thoughts. Yoga Nidra and other relaxation tools are helpful to self-healing process.
Gayatri mantra
Shanti mantra
Universal mantra
Ganesha mantra
Durga mantra
Peaceful mantra
Guru mantra
Mahamirtunjaya mantra
Mantra for success etc
Highlights of the Two weeks pranayama and meditation retreat in Kathmandu
Daily practise of pranayama
Preparation tips for meditation
Learn basic to advance technique of pranayama
Daily discussion of different subject of pranayama and meditation
Daily two times of practise of meditation
Practise different means and mediums of meditation
Daily practise of mantra chanting, vajans and kirtans
Learn different mudras used in meditation
Enhance to the newer dimension of the spiritual journey.
Why this retreat?
Life has different aspects. Spirituality is the core of the life. Without it every aspects of life is incomplete. Today we find more people stressful and depressed. They don't know how to keep balance state in life. Here, in this meditation retreat session in Nepal we will learn life changing tools that will bring more awareness, joy and wisdom. It is like gifting shining pearls to the self. It will enrich life and knowledge.
Sample Schedule
Sample schedule for breathing and meditation retreat in Kathmandu
7 am to 8 am Yoga Posture
8 am to 9 am breathing and meditation
9 am to 10 am breakfast
10 am to 12 pm free time
12 pm to 1 pm relaxation and chanting
2 pm to 3 pm lunch
4 to 5 pm self-Practice /silence seating
6 to 7 pm Philosophy and meditation
7 to 8 pm Dinner
9 pm Silence
This is just rough schedule can be change according to topic, teacher, climate and other circumstances.
What is included in this retreat
Life changing classes
Comfortable accommodation according to your selection depending on price
Three times food
Many cups of herbal tea
What is excluded?
Pick up and drop off
Laundry
Extra expanses around Kathmandu
Sunday is day off can go around Kathmandu, temple, monastery, heritage center
Extra food if you want to buy from city
Personal stuff
We welcome you in this very precious land of Buddha, in the lap of Himalayas, providing you the peaceful environment to learn and experience the true essence of yoga and meditation.
Om shanti ! shanti !! shantihi !!!