5 Days Divine yoga Retreat in Nepal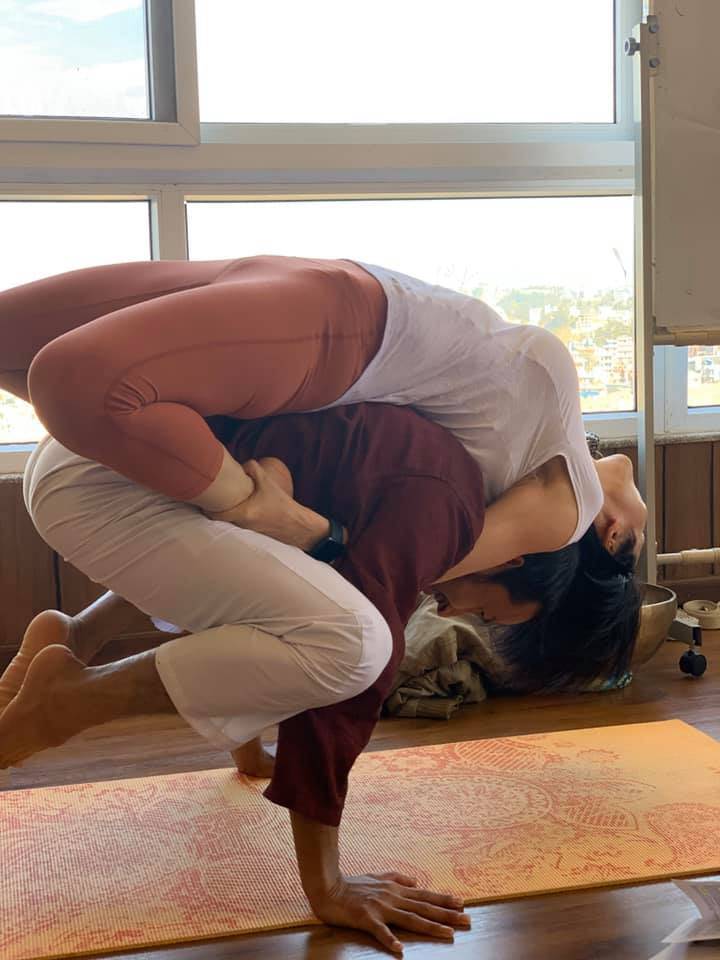 Divine Yoga Retreat in Nepal, Kathmandu, For the sake of cleansing your overall toxics from the body and mind, Nepal Yoga Home has come up with holistic and hypotonic 5 Days Divine Yoga Retreat. Nepal Yoga Home with its placid and serene precinct has been the marvelous yoga retreat destination for a blissful experience. Perched high on the spectacular scenario of jungle and hills, stay at Nepal Yoga Home for 5 Days Divine Yoga Retreat will be an incredible yogic experience.
This course is designed to teach basic knowledge of asana, pranayama, and meditation. To keep your body free of toxins and mind free from stress. Five days Divine yoga retreat course is offering for those who want to relax and entertain during a holiday in Nepal. We are located at the lap of Nagarjuna Jungle is sacred Jungle where the monk Nagarjuna was enlightened.  This is foothill of the Himalayas on the side of Kathmandu city. This divine knowledge has been passing through Himalayan Masters. This course is most interesting to learn directly from the motherland of Yoga with experienced Himalayan yogi.
During these five days Divine Yoga Retreat you will experience overall purification and rejuvenation by the practice of yoga asana, breathing techniques and meditation. The 5 Days Divine Yoga Retreat will detoxify you completely leading you to the path to sanitize the body, mind, and soul. Involving the asana practices in every day not only you will recharge and flex your body, you will also learn breathing technique and meditation for the lightness of the body and calmness in the mind. Furthermore, you will also be benefited by the ideas on mantra chanting.  It will be a complete package for your complete relaxation. The package of 5 Days Divine Yoga Retreat will help you to work on the process of weight loss, calm mind, fresh and rejuvenated body and the blissful soul. Your decision to join this divine journey of yoga and meditation will make a meaningful holiday in Nepal.
This course is beneficial to detoxify the toxins by breathing science. The tools of breathing science work to minimize the problem and deformity of the body. It will increase your energy getting rid of unessential wastage of the body. In addition to cleansing the physical body, it also empowers the mental focus. Breathing exercise is one of the best processes of purifying and balancing the physical, mental and psychological condition. Five Days Divine Yoga Retreat helps you to make a new you expelling all your old and unnecessary stuffs stored in the body and mind.
Through the practice of asana, pranayama and meditation one will find oneself in a very relaxed and recharged state of body and mind after completing the 5 Days Divine Yoga Retreat. It will be a very crucial step for anyone who is interested to bring positive change in his/her health by the natural and yogic techniques. In the very vicinity of nature, one will enjoy the setting as well as the soothing sense of experience by following the different yogic practice which may be familiar or some may be totally new and different. When you start to involve into the practice of yoga and meditation, it means you are also accepting some discipline to be maintained for your physical and emotional well-being. You will have to be careful about your habits which may be slightly changed for the betterment of your health and life. Therefore, it mostly depends on your own decision to convince yourself for strong health and the sound mind. During your stay for 5 Days Divine Yoga Retreat, the diets and habits will look new to you.  However, they are what is designed and dedicated for the balanced and well-nutrient life-style which will be a sparkling way for the Yogic life.
Five days Divine Yoga Retreat at Nepal Yoga Home compromises the overall purification not only of our physical body but also mental body leading to the comprehensive transformation of a day to day life in every aspect.  Asana practice every day will give the strength and flexibility to your physical body. Furthermore, the practice of pranayama also called as breathing technique will lighten one with the idea of vital force and its existential significance. Likewise, the meditation, chanting, and many other yogic practices will help you to cleanse not only in physical level but also in emotional, mental and psychological level allowing you to enter into the spiritual zone of your life.
What will you learn during this divine Yoga Retreat program?
You will learn life-changing tools to achieve authentic happiness.
You will learn discovery and self-empowerment tools to lift up to new spiritual height.
Yoga Posture for a healthy and strong body.
By meditation practice, you will learn to relax back into the center of being through the stillness of mind.
You will learn a way to achieve spontaneous, effortless, natural happiness.
Mantra chanting to purify your subconscious mind.
Applied yoga philosophy
Life coaching knowledge
Holistic and transformative technique for healthy living.
You will achieve a new understanding of Body-Mind and Soul relation.
Will learn tools to be awareness, and releasing the heaviness of the past in this divine yoga retreat.
We also teach the importance of mindfulness by cultivating awareness throughout the whole day.
You will learn great lessons about acceptance, Let go, inner silence and many more.
Will learn to love yourself is a powerful and liberating feeling.
What is the goal of this Divine Yoga retreat?
To provide healthy and enjoyable holiday.
To find physical and mental fitness.
To provide the good guidance to keep continue yoga and meditation.
To cultivate quality and positive life.
To encourage healthy, happy and empower life.
To provide powerful knowledge of our existence-Body, Mind, and Soul.
To relax, recharging, renewal, re-energizing and spiritually reborn.
To detoxify physical, mental and spiritual aspect of the body.
Prevent disease and maintain good health.
To cultivate yoga, meditation as a habit.
To provide you fresh, youthful, energetic life ahead on divine yoga class.
Who can join?
Anyone seeking to transform their body into new strength and flexibility.
Anyone who wants to discover a peaceful mind
This course includes beginner to intense yoga posture so we welcome all level of students. The beginner will get modifications of intense posture.
Requirements
Strong willpower to change for the better health and happiness.
Personal towel
Flashlight
Personal Yoga mat (optional).
Light cloth to practice yoga.
What will be included 
Our Divine Yoga Retreat includes yoga-meditation course, accommodation, three-time veg/vegan meals per day, Wi-Fi and life-changing powerful tools of yoga and meditation.
What will be excluded?
Laundry
Airport pick up and drop
Additional food
Yoga book
Daily Schedule of divine yoga retreat
We are teaching according to guest requirement and level of practice our sample daily schedule is this but it may change according to a teacher, topic, requirement, climate, and circumstance.                                                                            
| | |
| --- | --- |
| 6.30am | Get Up |
| 7.00  to 8.30 am | Yoga Asanas (Yoga Posture) |
| 8.30 to 9.00 am | Breakfast |
| 9.00 to 10.00  am | Self Practice |
| 10.00 to 11.00 am | Rest |
| 11.00 to 12.00 pm | Yogic Relaxation and meditation |
| 12.00 to 2.00 am | Rest/ Hiking, sight Scene(yourself) |
| 2.00 to 3.00 pm | Lunch |
| 3.00 to 4.00 pm | Rest |
| 4.00 to 5.00 pm | Stretching + breathing |
| 5.00  to 5.30 pm | Tea break |
| 5.30 to 6.30 pm | Meditation /Yoga Philosophy/mantra chanting |
| 7.00 to 8.00 pm | Dinner |
| 8.00 pm | Time to bed |