Zakari Jaworski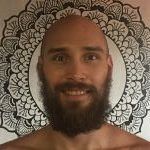 Course Enrolled: 500 Hours YTTC (Yoga Teacher Training Course)
Name: Zakari Jaworski
E-mail: zjaw1@umbc.edu
How can we reconnect with our authentic mind, body, and spirit? This question has sent me on a journey that has included Brazilian Jujistu, Muay Thai, dance, and has also brought me to the Nepal Yoga Home where I gained the experience to become a yoga teacher through the 500 hour teacher training program. The tools learned from my stay at The home has informed my other practices as well as lifestyle.
We can learn from applying awareness in order to plunge into the color of life. To find that the path to enlightenment takes one through self-realization. Now, it's time to share in yoga and find peace.
I rather not have my address on the certificate since I will move soon to another location but I am from the United States of America so my country can be put on it.