Lonneke Adriana Wilhelmina de Langen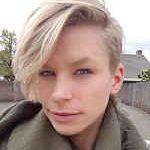 Course Enrolled: 200 Hours YTTC (Yoga Teacher Training Course)
Full Name: Lonneke Adriana Wilhelmina de Langen
Address: Kerkstraat 23, 5711 GT SOMEREN, THE NETHERLANDS
My name is Lonneke de Langen. I was born on the 6th of Octobre 1985. So I am 31 years old now.
I have studied Internaional Media and Entertainment Management. After finishing that study my boyfriend and I travelled for 7 months. When back home I started with my second study, Communications, onder the University of Tilburg. I have worked at different companies for about 4 years. Than suddenly my life changed very much! Because my boyfriend and I got the opportunity to take over a swimming school! After a few doubts and mind spins, we jumped into this great adventure. We started by renting the pool for 1.5 year. On the 1st of April 2017 we were able to buy the pool and the house next to the pool.
On a daily basis, I teach children how to swim. But next to that I give sports lessons in the water to grown ups (aquapower, aquarobics and swimming).
We have this beautiful company which we really love. But… I am doing yoga for 1.5 years now and it makes me feel really good. It started purely as a physical exercise. But after the practise I noticed that the feeling stayed longer than I thought. Than I started to learn more about yoga. And now I want to learn even more andere I want to pass this wonderful feeling on to other people. I love to teach and I love to do yoga. So doing a yoga teacher training makes me very happy.