Jose Mari Albarran Valle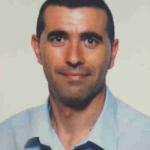 Course enrolled: 500 Hours YTTC (Yoga Teacher Training Course)
Full Name: Jose Mari Albarran Valle
Country: Spain
Address: Nafarroa etorbidea 2, 2¤B Errenteria Gipuzkoa
E-mail: dharavidyayoga@gmail.com
Jose has been practicing yoga for more than ten years with different teachers & styles, taking part in different retreats. Nowadays is preparing his teacher training in Nepal for this summer.
Dnamic hatha yoga is a flowing sequence allowing the student to continue expressing through the physical body, between poses. During the class, asanas will be a little demanding; propper for an intermediate level, but with variations for any level joining. The main purpose is to connect with ourselves from mutual respect, understanding and affection. Therefore, we will also stop to breathe, to be silent to listen and learn from ourselves.
Dynamic Hatha yoga class is open to incorporate techniques to help classmates to learn, to teach and to breathe each others , as work in pair or groups.