Singing bowl Training Course Level -1 – [3 days 8 Hours Training]
Cost

:

Standard shared- 300 USD, Standard private-350 USD, Deluxe shared- 400 USD, Deluxe private- 450 USD

Included:

3 night accommodation, 3 meals a day, tea, singing bowl training, 2 yoga classes each day, tax and service charges
Singing bowl training is based on the musical sounds created from the bowl. It is also known as the Himalayan or Tibetan singing bowl since its origin is believed to be the Himalayan region of Nepal and Tibet. The bowl gives special vibration with a deep and rich tone when played. There are many significant objectives of the singing bowl for a human from the physical level to the spiritual level. This training is available in Kathmandu. Nepal Yoga Home conducts "Singing Bowl Training, first-level" for people all around the world.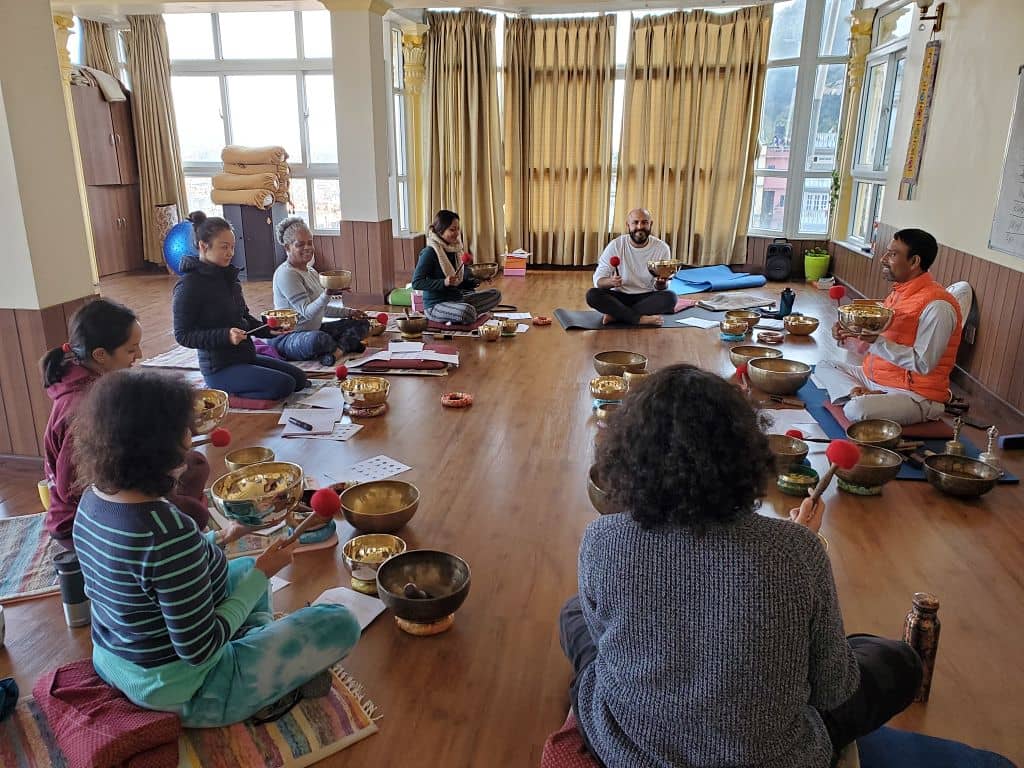 The course includes following topics under this 1st level singing bowl training: 
Singing Bowl Healing
The singing bowl is also used for healing purposes and is one of the mediums of alternative medicine or healing. It gives tranquility and peacefulness of mind which is very good to enhance the immunity system. It heals many psychosomatic diseases. So you will learn the singing bowl healing in this singing bowl training.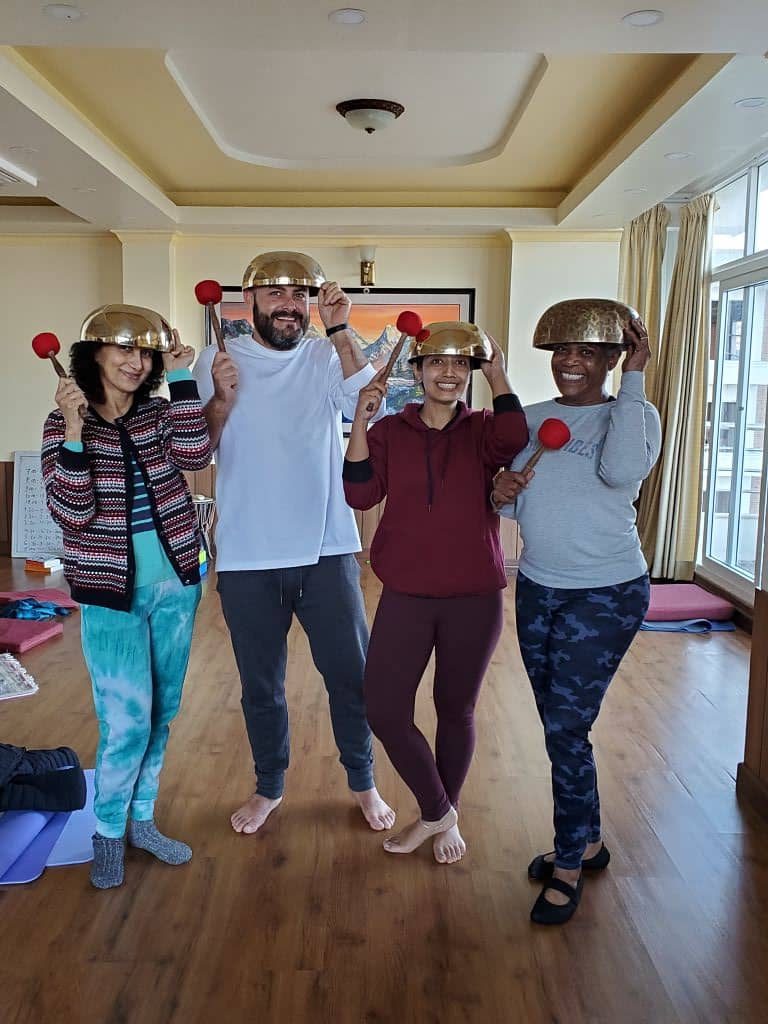 Singing Bowl Therapy
The diseases like migraine, headache, high blood pressure, heart-related diseases, memory loss, dizziness, hypertension, etc. are cured by singing bowl therapy. It is one of the natural ways to cure diseases in the human body. Unlike allopathic medicine it has no side effects, rather it increases human efficiency and helps in metaphysical progress. This will be taught in Singing bowl training.
Singing Bowl Meditation
Of the various meditation technique, singing bowl meditation is one of the suitable methods to deepen the spiritual journey. The musical sound of the singing bowl helps better concentration during meditation. This makes a meditator easier to focus throughout the meditation period. If your aim is spiritual seeking, meditation combined with a singing bowl sound will greatly help you.
Singing Bowl Massage
The singing bowl is also used in massage to increase its effects. When hit or circled with a mallet, a singing bowl creates sound and vibrations which promotes relaxation. It helps to lessen the pain. These bowls produce a rich variety of harmonics and sensations that have the ability to kindle on a body. This will relax the muscles, increase intestine movement, etc.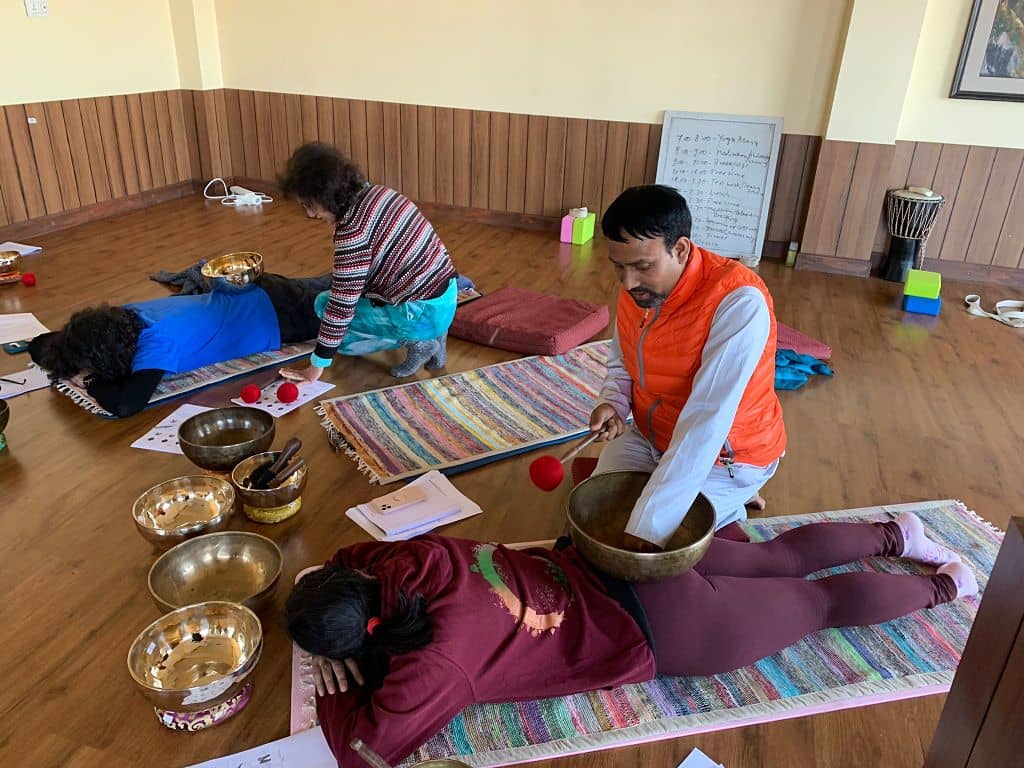 This is energetic which promotes our vital energy, balances our own resonance, etc. and at mental level singing bowl massage encourages us to an introspective state, releases emotional obstructs, etc. Massage with a singing bowl is a great arrangement since it grants the therapist to perform on the corporeal stage with the massage, and to invigorate the energy state and psyche through boosting the spontaneous emerge of energy, harmonizing one's subjective significance.
Chakra healing
The singing bowl is great for chakra healing.  The hidden diseases and sufferings are rooted in a spiritual base that resides in chakras. When chakras are healed your diseases will be healed from the root level. The vibration of the singing bowl sound has a special connection with each chakra. These vibrations have healing properties in the chakras to live a happy and healthy life.
Chakra purification
Another important function of the singing bowl is chakra purification. Chakra gets impure due to negative attitudes, thoughts, emotions, wrong lifestyle, and food, etc. Impurities are the cause of various diseases and defilements.  According to spiritual theory, you will be diseased if impurities reside in your chakras. So it should be cleansed.
Chakra Activation
Inactive chakras cannot receive a sufficient amount of energy from the cosmic source. In such conditions, an individual becomes passive or Tamasik nature resulting lack of working efficacy for worldly success also devoid from the divine journey of life.  It is the chakra that helps humans to be in connection with spiritual existence. Unless the chakras are activated humans cannot progress far. The singing bowl sound is a wonderful option to activate human chakras which will finally uplift the human's spiritual awareness.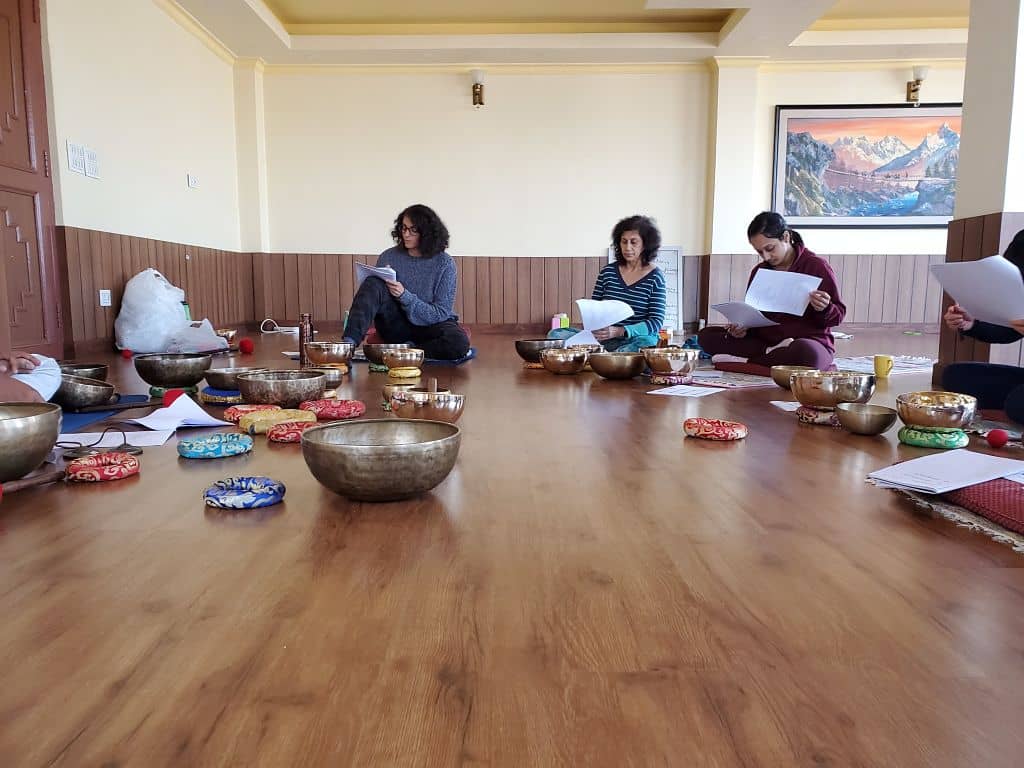 Chakra Balance
Singing bowl training will also help you for harmonizing your chakras. A real human will bear when chakras are fully balanced. For balancing Chakra; the C-note of singing bowl works for the root chakra, D-note for the sacral chakra, E-note for naval chakra, F-note for the heart chakra, G-note for the throat chakra, A-note for third eye chakra, and B-note for the crown chakra.
In singing bowl training, you will learn everything about singing bowl along with techniques to play it for various purposes.  You all are heartily welcome to enjoy the benefits of singing bowl training in Nepal.
Duration of Singing bowl Training
Normal duration of the course is 3 Days where we include 2 hours, 3 hours and 3 hours for 3 days. But if you are running out of time and you want to finish the course in 1 day, that is also possible by seeing our availability and instructors time. But we highly recommend you to join the course for 3 days which will be more relaxed and you will learn more in your relaxed mind.