Yoga is becoming more and more popular day by day not only for it's health benefit but also as career. Some folks are interested in the benefits of combining fitness with well being. Yoga instructors course is for you if you ever want to conduct one to one sessions or mass sessions. We have designed the yoga instructors course holistically and you can learn much more than yoga postures and breathing practices. At the end of this course, you will be able to teach yoga to the general public. Also to those people that includes having health-related complaints. This yoga instructors course teaches you the comprehensive way to prevent diseases, promote positive health and also to bring harmony and peace in the world.
The yoga teacher training is an excellent opportunity to begin your yogic journey. Immerse yourself in yogic life and enroll in the yoga course that will bring you peace and joy. Yoga can have significant effect to make your life happier, healthier and prosperous. Nepal Yoga Home, a pioneer yoga retreat in Nepal, has also started yoga instructors courses. As the demand and popularity of yoga have increased all over the world. We offer from beginner yoga teacher training that consists of 100 hours to advanced yoga teacher training courses that span over 500 hours. We start with the foundations and lead you to insights into asanas, pranayama, and meditation.
In yoga instructors course, Nepal yoga home limits the class size of the learners so that each of them can fulfill their personal goals as well as the combined goal. Our professional yoga instructors are able to give personalized attention due to the small class size. The friendly nature of the yoga instructors leads to the strong foundation of the learners so that they can confidently carry out the yoga training either personalized or in mass. Nepal yoga home is situated 5 kilometers far from the city in a lush green scenario which makes it a perfect place to stay and gain yoga teacher training in Nepal.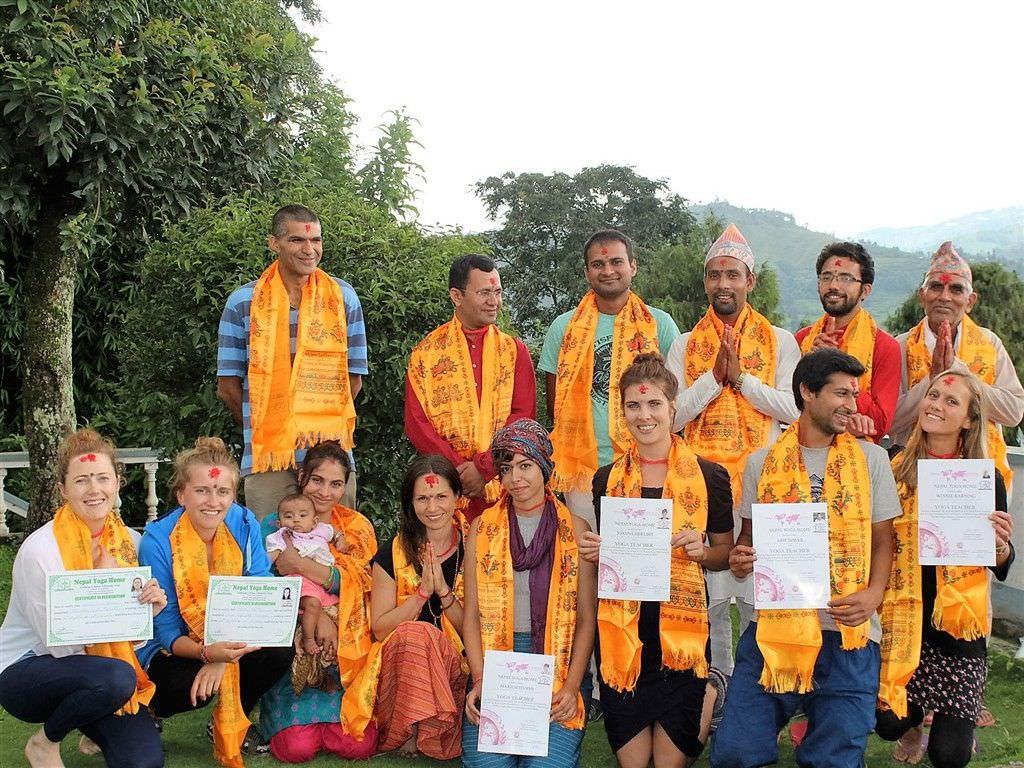 Who can join Yoga Instructors Course?
Nepal Yoga Home welcomes each and every individual who is searching the yogic journey. Anyone can establish a strong foundation and shape their learning in a better way. An enthusiast who wants to follow the divine path of yoga can be the person eligible to join yoga instructors course. Yoga is inclusive to everyone irrespective of the religion, gender, race, nationality or age.
What will you learn by the end of yoga teacher training in Nepal?
You will be able to practice and perform asana with alignment by yourself.
Yoga Instructors Course will give you many tools for regular practice.
You will know the names of the asana, pranayama and learn some mantras.
You will have an insight and idea to practice pranayama and meditation yourself.
Yoga instructors course will teach you to transform your spiritual practice.
The practice of yoga asana, pranayama, and meditation delve you into the journey of inner self.
The skyline of understanding about yoga will be no more the same.
You will realize the power of yoga and will understand how it has integrated into our lives.
How to improve flexibility, strength, relaxation within.
Yoga instructors course teaches you the art of healthy and happy lifestyle.
The sense of respect and value will increase towards the breath, body, and life.
Where will you live and eat during yoga teacher training?
Nepal Yoga Home manages all your needs from accommodation to dining facilities. The rooms for yoga instructors course are simply furnished with bed and tables along with shelf. There is an availability of hot and cold water.
The sattvic, vegetarian and fresh food is prepared in a family environment by experienced women and is prepared instantly after bringing from the local market.
What to bring for yoga Instructors Course?
In yoga instructors course you need to bring yoga mat, some clothes, towels, a flashlight, a note copy and a pen, preferred soaps, shampoos, photocopy of your passport and some warm clothes in winter. And a dose of energy.