One Week (Seven night Eight days) yoga retreat /One week Relaxing Yoga Class Nepal ($350)
One week yoga class Nepal (one week relaxing yoga meditation retreat) is ideal for all levels of yoga ability and understanding, including beginners.  This weekend yoga class Nepal will helpful to guide the life with authentic peace, lightness, fitness, well being, nutritious foods, healthy thoughts & self healing power.  During these courses, a student is taught different lessons of Yoga- Meditation that is important to maintain a regular practice. This one week yoga class Nepal will help you to clear your mind and rejuvenate yourself to come back to your home and keep on practicing.
You may join this one week yoga class Nepal on any day of any month. Regular Yoga schedule is available from Sunday till Saturday. This Yoga & meditation retreat is highly recommended to attend most benefited holiday.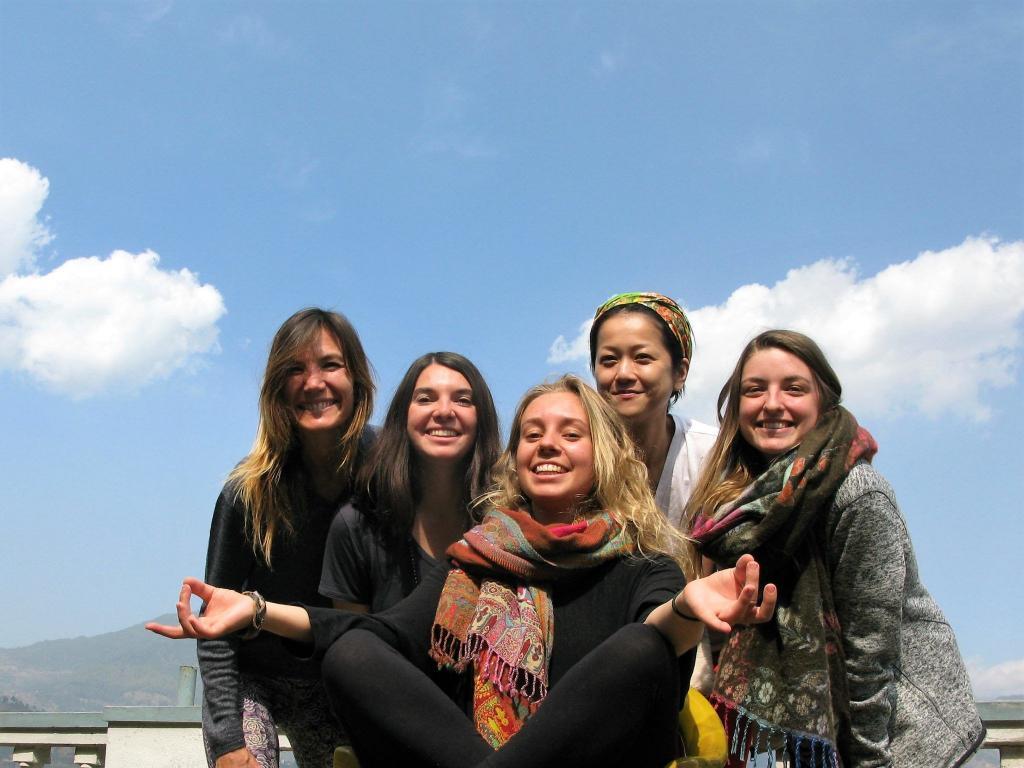 We are surrounded by beautiful Nagarjun Jungle, front view of Himalaya and beautiful village. You will feel totally relaxed and your mind will be refreshed, while your senses will acquire a pleasant pure awareness. There is enough time for self practice, walks, reading a good book or just simply relaxed and recharge. Students are guided on the appropriate times to engage in these different practices.
The requirement to practice One Week (Seven night Eight days) yoga class Nepal is meant to develop the kind of mental, spiritual and devotional determination needed in order make progress along the internal and spiritual path of yoga-meditation. The one week yoga class Nepal course is for those of us who would like to develop yoga practice that enables us to:
Manage stress, anxiety and/or depression better.
To start your inner journey of yoga and meditation.
Want to improve your yoga practice.
To deepen more on yoga – meditation.
Enhance concentration and awareness.
Expand psychological tolerance of uncomfortable feelings.
Improve wellbeing
Develop flexibility
What will you learn in one week yoga class Nepal (One week yoga retreat)?
Yoga Postures (Yoga Asanas)
In this one week  yoga class Nepal, We are teaching yoga posture on the basis of Astanga yoga & Hatha yoga. Yoga poses helps to purify, strengthen and healing of the body. The different categories of postures produce different energetic, mental, emotional and physical effects. Yoga postures are not exercises. They are very subtle processes of manipulating energy in a certain direction through which one can elevate his/her consciousness.
In yoga postures brain and body work together and energy is evenly balanced between the two. No other form of exercise so completely involves the mind and spirit with the body, resulting in total well-being. Yoga can help to fight fatigue and maintain your energy throughout the day. Yoga postures are an effective treatment for a variety of diseases such as stress, headache, sleep disorder, stiffness, fatigue, weakness etc.
Meditation(Dhyana) technique in one week yoga class Nepal
In this one week course students are taught how to regulate and understand mood through meditation. The mind will be brought under control by regular practice of meditation. We will teach Soul meditation, Buddha style meditation, So-Ham meditation etc.
Proper Breathing (Pranayama)
Pranayama is yogic breathing exercise designed to expand vital energy. Breath and mind are closely related. If one can control the breath, one can control the mind and vice versa.  Pranayama gives steadiness and lightness to the body and calmness to the mind. Pranayama brings harmony between the body, mind and spirit, making one physically, mentally and spiritually strong. Pranayama Improves in quality of blood, heart and lungs due to increased oxygenation in lungs. Pranayama is also good insurance against respiratory problems.
Yogic  Relaxation
Yogic relaxation is deep Relaxation of mussels, bones and nervous system of the body.  This technique is one of the most powerful yogic techniques for stress reduction and personal transformation.
Yogic Life style & Positive thinking
On these days you will learn Yogic life as way of lifestyle for successful Yoga practice, better health, peace of mind and happiness.  Positive thinking play great role for our healthy life. People often wonder how to be positive in their thoughts and actions, especially when they are unhappy and unsatisfied, or when life is difficult and tough. You will learn different technique how to tackle to your problem by positive thinking.
What to bring
Warm clothing (evenings and mornings might be cool)
Torch (flashlight)
Notebook and pencil if you like to take notes in the lectures
Schedule of Every day for one week yoga class Nepal 
Day First
| | |
| --- | --- |
| 12 pm | Check in |
|  12:00-2:00 pm |  Site scene, country side hiking etc |
|  2:00-2:30 pm |  Lunch |
| 2:30-3:00 pm |  Rest |
|  3:30-4:30 pm | Meditation(Ana pana and so-ham meditation) |
|  4:30-5:00 pm | Tea Break |
| 5:00-6:00 pm | introduction of pranayama and pre pranayamas |
| 6:00-7:00 pm | Theory- Yoga introduction |
| 7:00-7:30 pm | dinner |
| 7:30-8:30 pm | celebration and question answer session |
| 8:30 pm | Bed |
Day Second
| | |
| --- | --- |
|  6:00 am | Get Up |
|  6:30-8:00 am |  micro- level yogic practice+ 25 postures |
|  8:00-8:30 am |  Tea break |
|  8:30-9:30 am |  Self Practice |
|  9:30-10:00 am |  Breakfast |
|  10:00-11:00 am |  Rest |
|  11:00 am -12:00 pm |  Yogic Relaxation |
|  12:00-2:00 pm |  Site scene, country side hiking etc |
|  2:00-2:30 pm |  Lunch |
| 2:30-3:00 pm |  Rest |
|  3:30-4:30 pm | Mindfulness Meditation |
|  4:30-5:00 pm | Tea Break |
| 5:00-6:00 pm |  pre pranayama's + locks system in pranayama |
| 6:00-7:00 pm | Yoga philosophy (introduction of Astanga Yoga), Sun-Salutation, Stretching |
| 7:00-7:30 pm | dinner |
| 7:30-8:30 pm | celebration, question answer session, camp fire etc |
| 8:30 pm | Bed |
 Day Third
| | |
| --- | --- |
|  6:00 am | Get Up |
|  6:30-8:00 am | Micro- level yogic practice + 30 postures |
|  8:00-8:30 am |  Tea break |
|  8:30-9:30 am |  Self Practice |
|  9:30-10:00 am |  Breakfast |
|  10:00-11:00 am |  Rest |
|  11:00 am -12:00 pm |  Yogic Relaxation |
|  12:00-2:00 pm |  Site scene, country side hiking etc |
|  2:00-2:30 pm |  Lunch |
| 2:30-3:00 pm |  Rest |
|  3:30-4:30 pm | Meditation(Buddha style of meditation ) |
|  4:30-5:00 pm | Tea Break |
| 5:00-6:00 pm |  Pre pranayama + lock systems + Group of nasal cleansing pranayamas |
| 6:00-7:00 pm | Introduction of Patanjali Yoga Sutra -Samadhi padh , Sun-Salutation |
| 7:00-7:30 pm | dinner |
| 7:30-8:30 pm | celebration and question answer session, Camp fire |
| 8:30 pm | Bed |
Day Four
| | |
| --- | --- |
|  6:00 am | Get Up |
|  6:30-8:00 am |  Micro- level yogic practice + 35 yoga postures |
|  8:00-8:30 am |  Tea break |
|  8:30-9:30 am |  Self Practice |
|  9:30-10:00 am |  Breakfast |
|  10:00-11:00 am |  Rest |
|  11:00 am -12:00 pm |  Yogic Relaxation |
|  12:00-2:00 pm |  Site scene, country side hiking etc |
|  2:00-2:30 pm |  Lunch |
| 2:30-3:00 pm |  Rest |
|  3:30-4:30 pm | Introduction of soul Meditation |
|  4:30-5:00 pm | Tea Break |
| 5:00-6:00 pm | Pre pranayama + Lock system + Nasal & Stomach cleansing pranayama |
| 6:00-7:00 pm | Introduction of soul meditation |
| 7:00-7:30 pm | dinner |
| 7:30-8:30 pm | celebration and question answer session, camp fire |
| 8:30 pm | Bed |
Day Five
| | |
| --- | --- |
|  6:00 am | Get Up |
|  6:30-8:00 am |  Micro- level yogic practice + 40 yoga postures |
|  8:00-8:30 am |  Tea break |
|  8:30-9:30 am |  Self Practice |
|  9:30-10:00 am |  Breakfast |
|  10:00-11:00 am |  Rest |
|  11:00 am -12:00 pm |  Yogic Relaxation |
|  12:00-2:00 pm |  Site scene, country side hiking etc |
|  2:00-2:30 pm |  Lunch |
| 2:30-3:00 pm |  Rest |
|  3:30-4:30 pm | Mantra receiving + Mantra chanting |
|  4:30-5:00 pm | Tea Break |
| 5:00-6:00 pm | Blood cleansing pranayamas |
| 6:00-7:00 pm | Yoga philosophy-Patanjali yoga sutra bivuti padh |
| 7:00-7:30 pm | dinner |
| 7:30-8:30 pm | celebration and question answer session |
| 8:30 pm | Bed |
 Day Six
| | |
| --- | --- |
|  6:00 am | Get Up |
|  6:30-8:00 am |  Micro- level yogic practice + 45 yoga postures |
|  8:00-8:30 am |  Tea break |
|  8:30-9:30 am |  Self Practice |
|  9:30-10:00 am |  Breakfast |
|  10:00-11:00 am |  Rest |
|  11:00 am -12:00 pm |  Yogic Relaxation |
|  12:00-2:00 pm |  Site scene, country side hiking etc |
|  2:00-2:30 pm |  Lunch |
| 2:30-3:00 pm |  Rest |
|  3:30-4:30 pm | Practice of soul meditation + Mantra chanting |
|  4:30-5:00 pm | Tea Break |
| 5:00-6:00 pm | Pranayama for different glandular system |
| 6:00-7:00 pm | Yoga philosophy-Patanjali yoga sutra kaiballay padh |
| 7:00-7:30 pm | dinner |
| 7:30-8:30 pm | celebration and question answer session |
| 8:30 pm | Bed |
 Day Seven
| | |
| --- | --- |
|  6:00 am | Get Up |
|  6:30-8:00 am |  Micro- level yogic practice + 50 yoga postures |
|  8:00-8:30 am |  Tea break |
|  8:30-9:30 am |  Self Practice |
|  9:30-10:00 am |  Breakfast |
|  10:00-11:00 am |  Rest |
|  11:00 am -12:00 pm |  Yogic Relaxation |
|  12:00-2:00 pm |  Site scene, country side hiking etc |
|  2:00-2:30 pm |  Lunch |
| 2:30-3:00 pm |  Rest |
|  3:30-4:30 pm | Practice of  Soul meditation |
|  4:30-5:00 pm | Tea Break |
| 5:00-6:00 pm | Introduction and practice of Mudras |
| 6:00-7:00 pm | Introduction of Bhagwat Gita |
| 7:00-7:30 pm | dinner |
| 7:30-8:30 pm | celebration and question answer session |
| 8:30 pm | Bed |
Day Eight:
| | |
| --- | --- |
| 6:00 am | Get Up |
|  6:30-8:00 am |  Micro- level yogic practice + 50 yoga postures |
|  8:00-8:30 am |  Tea break |
|  8:30-9:30 am |  Self Practice |
|  9:30-10:00 am |  Breakfast |
|  10:00-11:00 am |  Rest |
|  11:00 am -12:00 pm |  Yogic Relaxation |
| 12 pm | Check out |